I am slowly building up a collection of original race photos and slides from the 50s and 60s that show spyders as they were in racing livery. Today they are restored back to a standard of when they left the factory as opposed to the unique body changes that each driver had made to make them go faster, or in many cases to stop faster. It would be good to collect a few of each of the builds and do a comparison of the cars then and as they are today.
There are many 'prints' available on sites like ebay, but they are usually copies of copies of copies and on most occasions the seller doesn't even have the rights to the original they are producing these from. An 8" x 10" print can cost between $20 and $30 which is fairly reasonable if you just want one to own. At many automotive memorabilia auctions, it is common for individual original prints and even albums of a driver's racing career to go for hundreds or many thousands of dollars.
It is interesting how on occasions, one thing triggers another. It was only a week ago that someone posted a photo of an orange colored spyder in street trim. It featured a full framed speedster windscreen and no race markings, but it was different to stock spyders as it had extra large air intakes in the nose and no indicator lights, which I hadn't seen before.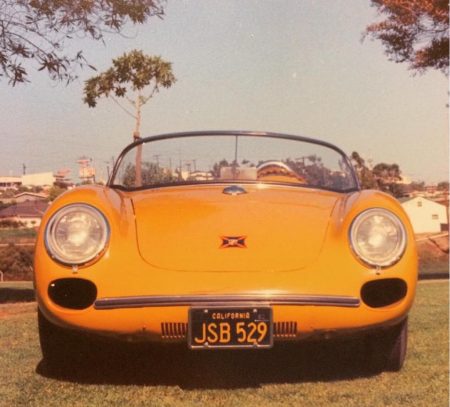 A knowledgeable person identified it as 550-0023 which was recently on display at Retromobile. Although fully restored, it was the same car but still without the indicator lights.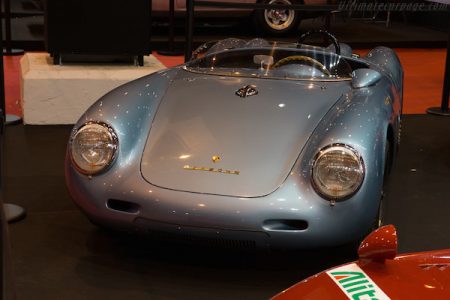 A few days later, some images taken at the Midland Empire Sports Car Races in Memphis in 1955 started surfacing with the same original car but in blue and full race trim – along with the big air intakes. With some searching, I found the source of the photos and was able to buy the original slides off him. There were four in total, two of 550-0023, one of 550-03 and one of 550-0020.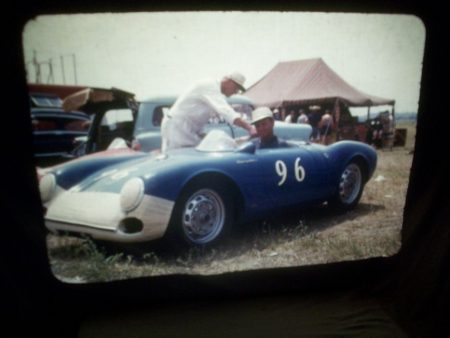 Once again, vintage racing photos are like DNA and can tell another story as they are a snapshot of the events on the actual day. This car was piloted by Hank Robb – a little known racer, and it is not certain whether the spyder was his or if he was driving for someone else.  In the Carrera book, 550-0023 has a listing of Jack McAfee and also Ruth Levy racing the car in 1955, but checking other photos, including one of McAfee racing at Torrey Pines in October 1955, the car is silver and still has the original indicator lights.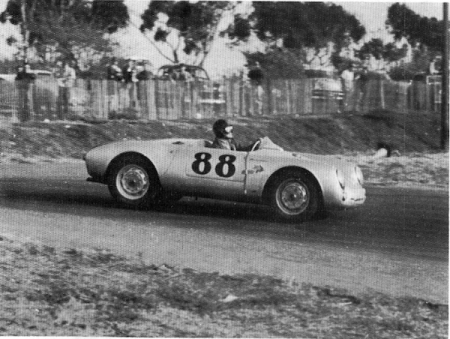 Now more research needs to be done to determine the correct race history of the car and its drivers.