The Mille Miglia was an annual race that took place between 1927 and 1957. It wasn't until 1949 when the organizing committee developed a system to ensure the increased amount of entrants, now over 450, left the start line in an orderly manner. Each car was allocated a race number which corresponded to the time they started, for example 001 was one minute past midnight and each car thereafter left in intervals of one minute.
Porsche started entering spyders in the 1954 Mille Miglia race, consisting of only 550-08 with a start time of 3:51am. Times were only allocated the day before and the race team was originally given an incorrect start time of 3:47am.
The number was hand painted on the car before they realized the error as another Porsche wore the 347 number. The car body was cleaned and the correct number applied.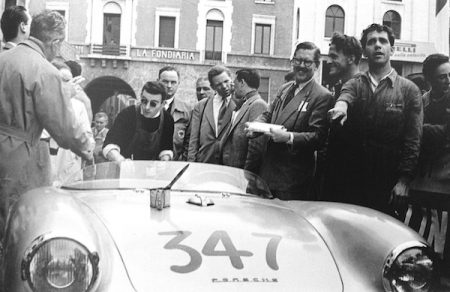 In the 1955 race there were seven spyders entered in the 1.5 litre category but only five raced with start times of 541 / 548 / 552 / 555 / 556 finishing with great results of first, third and forth. The 1956 race saw the entry of 3 x 550s and one 550A spyders with only one completing the gruelling two day race.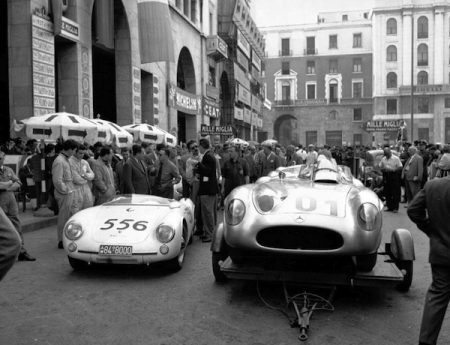 Similar to many road races around the world, 1957 signalled an end of the Mille Miglia, due to the increased number of spectator deaths along the course with drivers taking extreme risks to reduce stage times. Two 550A and one 550 Spyder entered taking home first and second positions.
The modern Mille Miglia is only open to cars that were built between the years of the original Mille Miglia. With 1000s of entries each year, priority is always give to original cars that actually participated in the event. Today each car is numbered from 1 to 456 which breaks with the tradition the race is renowned for, but the stages are more regimented and safety is a high priority for spectators.