It was sad to hear the passing of legendary racer Denise McCluggage on 5th May 2015 at the age of 88. She had made racing a life career from an early age as a sportswriter for the New York Herald Tribune.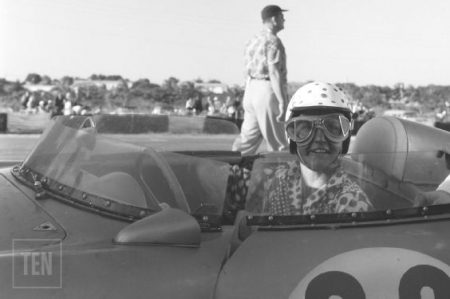 By 1955, she was a regular at local events on the East Coast driving a Jaguar XK140MC. Soon she had the opportunity to drive a Porsche 550 RS Spyder owned by Carl Haas – 550-04 at the 1956 Nassau Races in the Bahamas with a win in the Ladies Race. For the next three years she raced a number of 550RS and 550A spyders usually for Briggs Cunningham's team in both Ladies races and against the big boys, proving to everyone who was queen of the track. She was always recognized for her white racing helmet with red polka-dots as she overtook lesser skilled drivers.
She frequently started on the grid against the racing greats – Phil Hill, Stirling Moss, Carroll Shelby, Dan Gurney, Juan Manuel Fangio, and many more, usually crossing the line with them in her tail lights. With over 25 starts in a Spyder and seven class wins, Denise usually owned the track. She continued racing until 1967 driving a Ferrari 275 GTB – no car could tame her.
Denise lived a full life with motor racing and family being the centre of her attention to the very end. She was a regular at international car races, chosen to road test the latest creations from leading car marques and a respected judge at premier concours d'elegance events like Amelia Island and Pebble Beach. On top of all these commitments, she was also a renowned motor journalist for Autoweek magazine which she contributed to regularly and was awarded as the first journalist to be inducted into the Automotive Hall of Fame in 2001 and the SCCA Hall of Fame in 2006.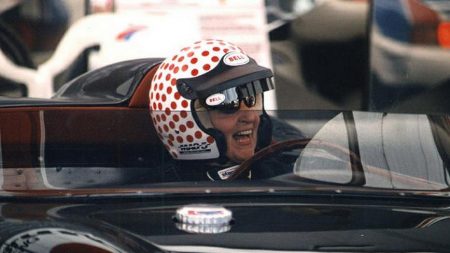 Unfortunately it comes a time when the female racing greats of the 50s like Denise and also Ruth Levy, who passed away late last year, head for the checkered flag in the sky. They will be dearly missed, but their memories of racing and life achievements will live on for generations to come.