The Goodwood circuit is part of the Goodwood House Estate in England and was a perimeter track of the RAF airfield on the estate. With a schedule of six meetings a year, Goodwood became most famous for its nine-hour endurance races in the mid 1950s drawing all the main teams across from Europe to compete.
1954 saw the first of the Porsche 550s venture over to the United Kingdom to the Silverstone track, with the likes of Hans Herrmann and Huschke von Hanstein vying for the British GP resulting in 3rd place in the 1.5 class and 1st in the 1.1 class.
In August 1955, the 550s were back, this time for the nine hour Goodwood. Seidel and Steed in 550-15 with #35 came in 3rd place in the 1.5 class, but the main focus was on Stirling Moss who was assessing different teams to join following the withdrawal of Mercedes from the competition resulting from the tragic Le Mans accident. Teamed up with von Hanstein in 550-0047 with race #34, unfortunately they were forced to retire on the 237th lap due to an accident. A photo of Moss leaping into the cockpit of his 550 at the Le Mans style start to the race shows the agility and competitive nature of Moss in any car he drives.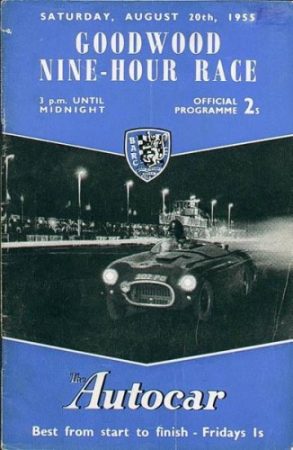 Today, Goodwood is one of the most popular historic race venues on the calendar, offering both the Goodwood Festival of Speed in June which an annual hill climb and the Goodwood Revival, which is a three-day festival held each September for the types of cars and motorcycles that would have competed during the circuit's original period, 1948–1966.