For Porsche to be as successful at customer sales as it was on the track, it was important to develop a network of distributors to sell their cars. Partnerships were set up across Europe, with friend of Ferry Porsche and LeMans driver, Auguste Veuillet becoming the French dealer under the name of Sonauto in 1951, although he had been selling cars since 1947. His dealership was located in Paris-Rue de la Boetie. Both 356 and 550 Spyders were adorned with a Sonauto dealer badge just below the Porsche script on the rear which was also gold plated. It specified the dealer name, address and 'Paris'.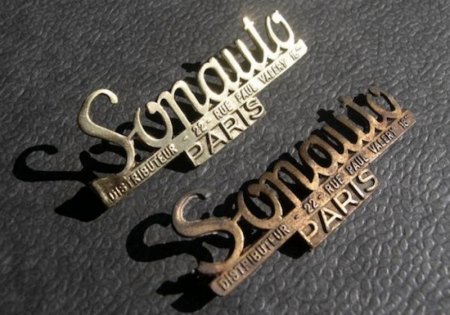 These dealer badges can be found today on both 550-0051 and 550-0067. In the early 1970s, the dealership moved to RUE Marjolin Levallois, and the new badge was mounted to the early model 911s and 912s. With most Porsches being restored in later years, this form of advertising was removed from the body, but today they are highly sought after for the authentic period look.
Another badge which is mounted to the rear of 550-0034 today is from a French race driver come garage operator Roger Loyer, who was one of the greatest French motorcyclists of the 1930s and 1940s. One of his businesses was called "Sport Service" also at Levallois which had become fashionable among members of "tout Paris".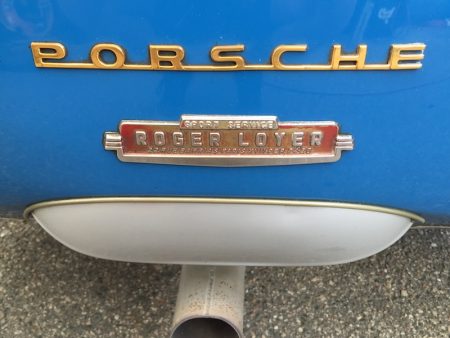 Ferry Porsche also saw the potential of the US market and in 1950 at the Paris Motor Show, met with automobile importer Max Hoffman who had already established a dealer network in the US selling European cars. Hoffman was allocated 15 Porsches annually which he and fellow Austrian Johnny von Neumann marketed successfully both on and off the track. By 1954, 30 percent of all Porsche production went to Hoffman.
Hoffman introduced the 356 Speedster exclusive to the US market along with his greatest marketing idea, to rename the 550RS/1500 to the 550 'spyder'. Hoffman felt that it would improve sales in the US if the car had a name instead of just a number, which proved extremely successful. All the Werks and customer cars were delivered with the gold script mount to each side of the front fender.
In November of 1953, Jack McAfee at the age of 29 became the youngest Porsche dealer ever. His enthusiasm and drive seen on the Californian race circuit in his trademark Porsche 550, was enough for Hoffman to see that he had the drive to run a successful dealership. McAfee's was one of the first on the west coast under guidance of von Neumann, starting out on Ventura Boulevard in Sherman Oaks CA. James Dean and Porsche mechanic Rolf Wutherich visited Jack at his dealership the morning of the day the actor was tragically killed in his 550 Spyder on his way to Salinas CA.