Dr. Ferdinand Porsche may have been the most prolific designer of the 20th century. He experimented with aero engines, airships and helicopters and designed the Tiger Tank, a self-propelled gun, and the prewar 545-hp mid-engine Auto Union Grand Prix and Land Speed Record race cars. He was a pioneer in front-wheel drive, four-wheel drive, four-wheel brakes, automatic transmissions and streamlining, and he also created the Volkswagen.
In the early 1950s, Porsche had been working with US company Fletcher Aviation to develop and test a jet cooling system for Porsche's new 1952 356 cabriolet. The jet cooling was an interesting scheme that saved the power required to drive a cooling fan. Porsche did a great deal of development work with the cooling system for several years, trying it out on the early 550 spyder before concluding that the exhaust noise was excessive and abandoned the program for jet cooling.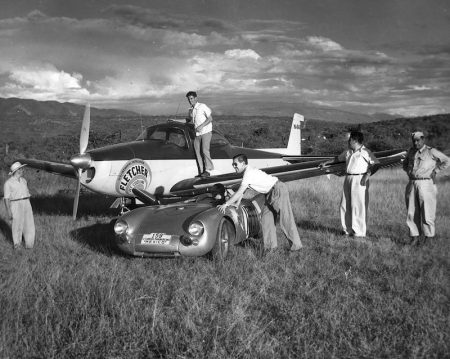 The relationship between Porsche and Fletcher Aviation, who manufactured Porsche industrial engines under license from the Stuttgart automaker, created a unique opportunity of company sponsorship in motorsport, something never considered or seen before. Mexico's Carrera Panamericana race in November 1954 saw the Porsche factory enter two 550s – chassis 550-03 and 550-04 blazened with sponsor logos across the bonnet.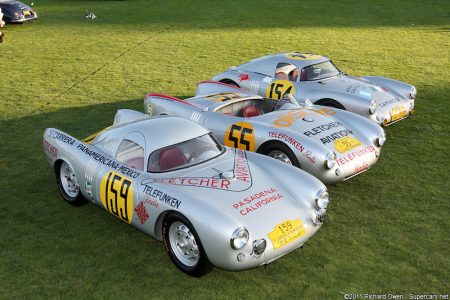 Additional sponsors Castrol and Telefunken Radio, whose radios were fitted in the 356, also joined the support of the team with logos on display, which helped finance the expensive journeys off shore. Fletcher would also supply a 190-mph, single-engine Navion aircraft and pilot-journalist-photographer Don Downie to fly the plane and provide support for the race team. Porsche racing director Huschke von Hanstein who was following the race from the air, called on the drivers to exercise prudence and avoid senseless duels that might send a potential one-two Porsche victory up in smoke, especially since the engines on both lead cars were ailing.
The car that Hans Herrmann drove in the Mexican race was chassis 550-04 and was sold by the Porsche racing team to Robert H. Davis of Bloomington, Illinois for $6,000. As racing team budgets were far from generous, it was common practice for them to sell their car after racing them.
The 550-04 would go through several owners but eventually was re-acquired by Porsche AG and was completely restored for the Porsche Museum, which chose not only to show the car in its collection but wanted to register the car for participation in historical racing events so fans could see it again in action, not just as a static display.