The modern day Mille Miglia is a four day race taking in the sights of the Italian countryside, following the tradition of the original race by starting in Brescia en route to Rome and returning to Brescia. Participation is limited to cars that took part in the original race between 1927 and 1957. Every year, the route undergoes changes between the main cities to create new challenges for regular participants and to follow the route of the earlier editions. Since 1977, the Mille Miglia has been reborn as a regularity race for classic and vintage cars.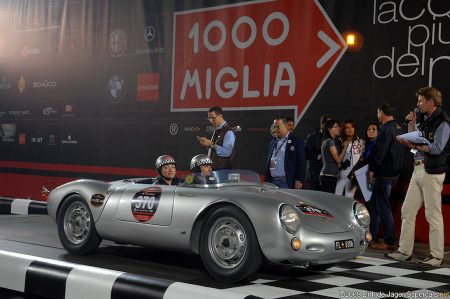 An amazing site of the entrants in the Piazza della Loggia is the prelude to the start. A mix of both vintage and race cars leave in timed intervals towards the end of day destination. The Porsche 550s and 550A spyders have always had a strong presence at each event with up to six entered at a time including a number from the Porsche Museum collection. The race is gruelling with up to 12 hours of driving for each leg, but an experience not to be missed.
On the other side of the world since 1997, more than 100 classic cars from the 1920s up to 1961 start in one of the busiest districts in Tokyo, on a 680-mile rally paying homage to the famed Italian Mille Miglia road race. Dubbed the 'La Festa Mille Miglia', this rally in mid October is considered a sister event of the official Mille Miglia in Italy. It's the vintage car heaven you'd expect from a name like that, with a Japanese touch.
The start and finish point are always the same: the Meiji Jingu Shrine in Harajuku, Tokyo. A huge parade of car travel across seven different prefectures in Japan over four days. The route changes every year but they always put the route on their website if anyone wants to see the cars drive through certain places.
It's actually one of the few classic car events held annually in Tokyo where both classic car owners and fans to come together.
I was most fortunate to participate in the 2019 Mille Miglia race. For the full report, click here or view the video below.