Porsche 550 spyders have been faithfully reproduced as scale model cars ranging from 1:86 up to the impressive 1:8 scale. Some have amazing detail and reflect the car's proportion and finishes that rival a 1:1 scale Spyder. They also come in a variety of Scalectrix models featuring famous spyders such as James Dean, and winners of the Mille Miglia and Avus races.
Over the years, I have been an avid collector of scale model Porsches. Originally they were all 1:18 models, but with a strong interest in spyders, I started only collecting the Porsche 550 Spyder models which lent itself to the 1:43 scale ones, as they were most commonly available. These days there is a great selection of models for sale, especially in the 1:18 scale which focus on the livery of the original builds. The quality of the models are also getting better as the factories which produce them are now equipped with the latest technology in casting, assembling and spraying systems and focussing on higher quality control in the final product. Companies like Schuco and BBR, 3D scan originals to get every panel in correct proportion and capture very intricate detail especially in the engine bay.
From a workshop in Germany, Bernd Pennewitz from Pennewitz Design has been building a 1:2.3 scale model 550 spyder. The model is an electric car which has space to accommodate a small child. It has authentic style finished such as wheels, dash and steering wheel, along with functioning lights and the sound of a type 547 quad cam engine – all for a cool $5900. Some are customized in finishes such as rear deck vents, colour schemes and even darts along the rear fenders – limited to only 550 builds, it is a must for any Spyder fan!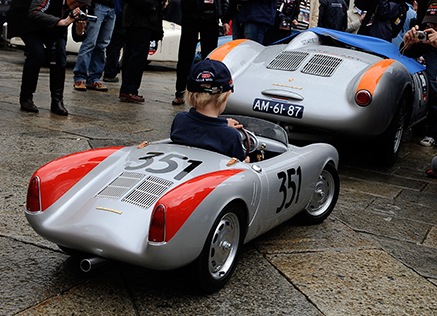 Now you can own a scale model of a type 547 Carrera engine designed and developed by John Anson in collaboration with the Porsche Museum, which can be built in approximately 6 hours. With over 300 plastic components including moving pistons and valves, everything is functional along with a sound module with the original engine sound. Numerous illustrations and drawings from the archive of the Porsche Museum show the beginnings of the Porsche racing engines conceived by the development team led by Ernst Fuhrmann.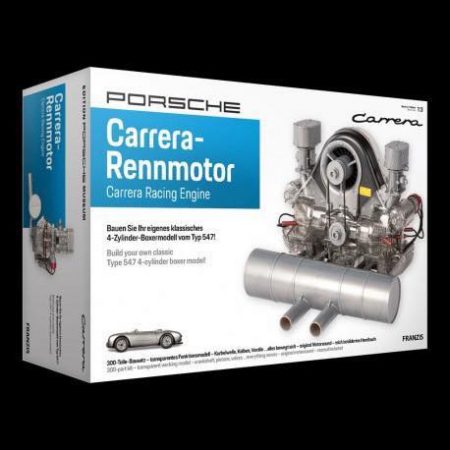 Miniwerks produce a limited number of high end 1:43 scale model cars. In their range is a $1500 Porsche 550RS Spyder which like many others, possesses amazingly intricate detail in such a small build. Luckily this one comes with a spare engine if you need to do a change over! This one will need to go on the wish list…
One of the ultimate scale models for any collection would have to be the 1:8 scale Spyder produced by GMP. Amazing detail, including opening doors, hood and deck lid, working steering, real leather-like hood and deck lid straps, every engine, interior, and bonnet detail replicated perfectly… even fuses in the fuse box!
This spectacular model is one of only 250 hand built GMP examples. The production run is completely sold out. It has an amazing fully wired and plumbed engine, chassis, and interior. Beautiful hand polished and waxed silver paint. The model is 18″ long, 7.5″ wide, 5″ high. If you find one – buy it, as they will only appreciate in value at the same rate as an original!
I have my collection on display in my office's boardroom table with a glass top – always a good conversation starter!