The GP Berlin was held at the AVUS track – The Automobil-Verkehrs- und Übungs-Straße in Berlin, Germany. Although used as a public road, the track is unusually shaped as it is essentially just two long straights in the form of a dual carriageway, with a hairpin corner at each end. Since 1927 the AVUS faced competition from the new Nürburgring circuit. In an attempt to make AVUS the world's fastest race track, the 1936 season was skipped while construction commenced on the north curve creating a steeply banked turn (43°) made of red bricks. It became dubbed the "Wall of Death," especially as it had no retaining barrier on top, so cars that raced above the line were in danger of flying off.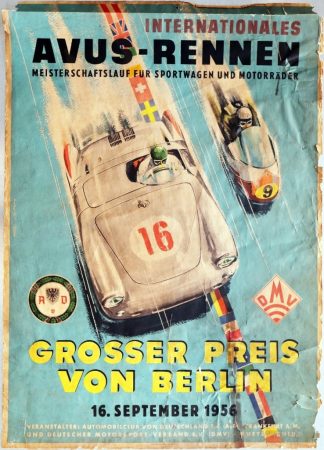 The 1954 season saw the Porsche 550s out in force competing in the 1.5 litre class. With drivers such as Richard von Frankenberg, Hans Herrmann and Richard Trenkel, Porsche took out first, second and fifth positions. With a return in 1955, von Frankenberg repeated his winning performance against a field of six other 550s and the Glöckler No 1.
In 1956, Wolfgang von Trips won ahead of Herrmann, but von Frankenberg driving a new prototype Porsche, the Type 645 found himself flying off the top of the bank and crashing over the edge into the pits below, luckily surviving the fall to race another day.