A one off prototype was the 1956 super-light design utilising one of the spare 550 frames – 550-098 called 'Mickey Maus' which, with Richard von Frankenberg at the wheel, was reduced to a melted wreck that same year in a spectacular crash at the Avus race track. Known as Type 645, it was the beginnings of the new Type 718 Porsche with a shorter wheel base and unique suspension. The very small frontal area, along with the surface oil cooler and the welded magnesium body 'skin' used for the first time, made it particularly aerodynamic. The Avus circuit with its banked north curve track paved with dark red stones was wrought with danger even for experienced drivers.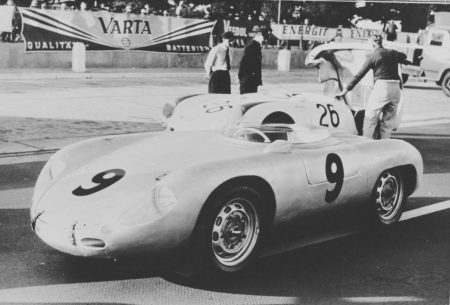 On 16 September 1956, von Frankenberg in his modified race number 9, Type 645 spyder led spyder number 8 driven by von Trips by some 30 yards, both running above the white line. The spyder came fast into the north curve then veered to the right unexpectedly towards the lip of the banking, shot vertically into the air and spun several times.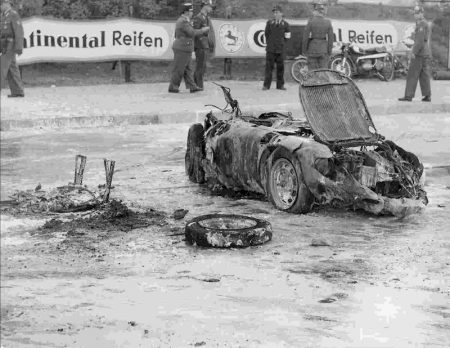 Von Frankenberg was thrown clear of the cockpit in mid air and his fall to imminent death was broken by acacia bushes which grew at the rear of the banking. The car was not so lucky which crash landed between a Mercedes 300 SL and another car in the pits below and burst into flames of poisonous white magnesium. Von Trips went on to take line honours in the race while von Frankenberg escaped with minor injuries to race another day.