In 1956, a 22 year old Swiss engineer and amateur racing driver, Michel May became a pioneer in the future of Formula One racing. Michael was still a student at the Zurich Technical University and his cousin, a banker bought the car. He saw the potential of using aerodynamics as a means to effectively convert horsepower into forward motion by producing a negative force towards the ground. He experimented with an inverted wing mounted over the cockpit of his Porsche 550 Spyder (550-0031) which he raced on the European circuit. Michel and his brother Pierre saw the immediate benefits of the downward forces created to increase grip and cornering and with modifications including a lever system to adjust the tilt of the wing, created outstanding results.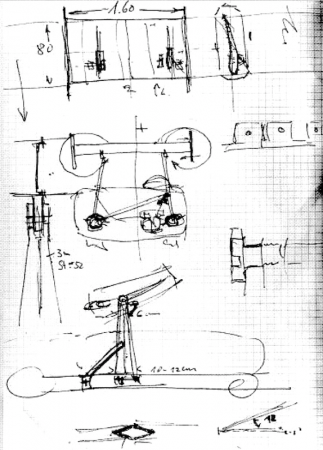 The first race test was to be held at the Nürburgring 1000 Kilometres on the 27th May 1956 and although cynicism by his fellow drivers from the paddock, he passed the official's scrutineering and qualified forth fastest in practice, outpacing the likes of Fangio and Behra. When May's car proved faster than The Werks Porsches, Porsche racing boss, Huschke von Hanstein lodged a protest for the wing to be banned, under the pretext that it was unsafe and obscured the vision of following drivers and threatened to pull all four Werks cars from the race. The officials backed down under the influence of Porsche, banning the modification. May raced the spyder with the wing in one other race, at Supercortemaggiore the following month, but did not finish, resulting in May shelving the concept for the future.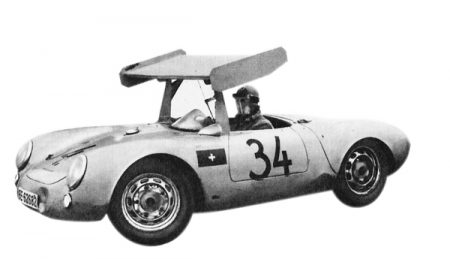 In the 1960s he continued his engineering career working at Benz on his own patented FI system. May was approached by Porsche to get more power out of their F1 car/engine. They had reached their limit and were deficient versus competition. Benz loaned him out and Michel went on the basis that if he got 15/20 HP through his fuel injection development with Porsche, he would get a drive in the F1 car. He got the power and was promised a drive at the GP of Pau in Spain. On the day he was furious when he found out that von Hanstein had convinced Ferry Porsche not to let him drive for fear of embarrassing the Werks drivers with his driving ability. He immediately left Porsche and in 1963-64 he was a consultant to Ferrari on its successful adoption of Bosch direct fuel injection for its racing engines. He also mentioned the function and the success of the wing he designed for his spyder to Mauro Forghieri. Forghieri and his team engineered, built and mounted an aerodynamically-sound wing on the 312 F1 Ferrari and tested it in 1968 – the rest is history.