The 1,000 miles of Brescia, commonly known as the Mille Miglia was, apart from the Targa Florio, the largest and most important car race in the world at the time and it meant an important victory to the Porsche team.
The 1954 race saw the introduction of the type 547 quad cam engine fitted into a racing Porsche which was Hans Herrmann and Herbert Linge's 550-08. An incident involving a lowered boom gate where Herrmann drove his low 550 under it, narrowly missing an express train has become a legendary racing antidote demonstrating the determination of the Porsche drivers to win at all cost. This daring act gave them first in class and 6thoverall.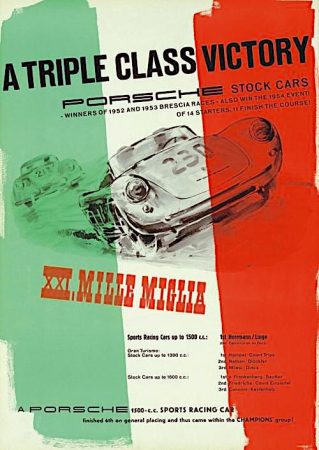 The start and finish was in Brescia Italy, where the participating cars started during the night at two minute intervals. In 1955, the Glockler/Seidel team in their 550 Spyder 550-15 was issued the number 541, which gave it a start time of 5:41am. They also won their class and were 8th overall among cars with twice their engine size. The total distance was 1,600 kilometres which they did in 12 hours, 8 minutes and 17 seconds. The other 550 entered, No 548, driven by Lautenschlager and Scholl, finished 23rd overall, but a well deserved third in class.
1957 was the last year the Mille Miglia was held in its original race form. The Italian Government prohibited it after the Spaniard, Marquis de Portago crashed his Ferrari and killed thirteen spectators, in the village of Guidizzolo. Over such a long distance, there was no protection for spectators from the cars which reached speeds in excess of 180 mph.