The Nürburgring is a renowned track located in Germany and is famous for its 1000km race, but when it established itself as a race on the German Sportscar Championship circuit in 1953, it was only 6 laps or 136km. Round one on the Championship calendar which was the Eifelrennen Nurburgring on 31st May 1953 saw the debut of Porsche's latest creation, 550-01 in its roadster guise. It had the race number 131 and was driven by Helmut Glöckler who used his racing skill from his own Glöckler creations to come in first position just ahead of the Borgwards.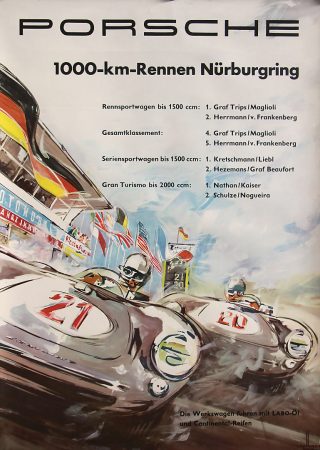 On 2nd August 1953, both 550-01 and 550-02 were entered into the Rheinland Nürburgring with No 132 this time coming in first while No 131 retired with engine problems. Considering the 550s were only prototypes, the results were a great success for the factory to build on.
The Nürburgring track became a favourite for 550s being on home soil for Porsche. 1954 saw another four entries giving the 550s 1st, 2nd, 3rd and 4th in class – another outstanding result.
The May 1955 Eifelrennen race saw a record nine 550s entered, dominating the field. With the introduction of longer distance races at the Ring, the 500 km Nürburgring race in August 1955 saw 14 spyders entered with Richard von Frankenberg in No 2 coming in second position just behind Jean Behra in his Maserati 150S. The rest of the 550s fill the positions from 5th to 11th and beyond! The 1000 km Nürburgring was not debuted until the 1956 season. The purpose designed European tracks became an important part of the racing scene at the time. After the tragic accident at the 1955 LeMans, many open road races worldwide were forced to cancel future races as they could not guarantee the safety of spectators.