After the initial half a dozen 550 prototypes, Wendler was awarded the contract for producing both the Werks race cars and also the customer production cars. Based on the blueprints that were drafted with the final spyder shape, there was a distinctive body feature which was first seen on 550-06 at the 1954 Brussels Auto Show.
On the front nose of the 550s, was a rubber bumper strip which seemed to be designed for the consumer market, not for the track. The bumper was incorporated into the first production run of spyders from 550-0016 to 550-0045. After a number of races it was noticed that the front brakes were seriously overheating and created great concern for drivers especially in races such as the 24 hour Le Mans. The Porsche factory found a solution to cooling the brakes by cutting an air intake on both sides of the front nose, which allowed air to be directed to the drum brakes offering much cool relief.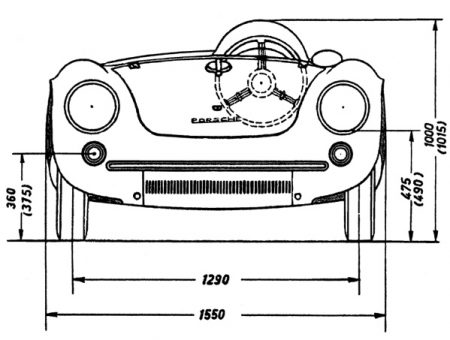 In the process of this changeover, either the rubber strip was shortened or removed completely to accommodate the intakes. By the time Wendler started building the Werks cars for the 1955 Le Mans, they had redesigned the front, removing the rubber strip to incorporate the front cooling intakes. From 550-0046, each new production spyder had the air intakes fitted as standard. There are still a number of spyders which haven't been modified, but many were modified by the factory to the later design to rectify the problem.