Hans Herrmann began his racing career in 1952 as the Stuttgart born rally driver became German Sportscar Champion in 1953 participating in Formula One racing. The following year he entered the northern Italian motor racing classic, the Mille Miglia.
The Mille Miglia (thousand miles) was an open-road endurance race which took place in Italy twenty-four times from 1927. In 1957, the race was banned after the fatal crash of a 4.2-litre Ferrari that took the lives of the Spanish driver Alfonso Marquis, his co-driver Edmund Nelson and thirteen spectators, at the village of Guidizzolo.
Unlike modern day rallying where cars are released at one minute intervals with the larger professional class cars going before the slower cars, in the Mille Miglia the smaller displacement slower cars started first. Cars were assigned numbers according to their start time. For example, the 1954 Hans Herrmann 550 spyder, No 351, left Brescia at 3:51 a.m. while the first cars had started at 9 p.m. the previous day.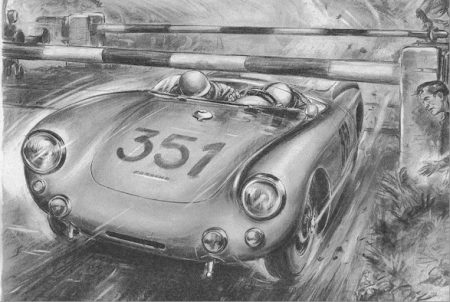 Chassis number 550-08 was assigned the race car number 351 with Herrmann behind the wheel, together with Porsche racing engineer Herbert Linge for the Mille Miglia on May 2, 1954. Shortly after the start of the race on the outskirts of Brescia, another piece of motoring history involving a spyder was written. Whilst coming out of a sharp bend travelling at high speed, the team saw a railway level crossing barrier being lowered before the fast train to Rome passed through. Driving the very low Porsche 550 spyder, Herrmann decided it was too late to brake, so he knocked on the back of the helmet of his navigator and they both slid deep into their seats, barely passing below the gate seconds before the oncoming train crossed. The Porsche's amazing average speed of 126.79 km/h (78.78 mph) was a convincing performance for the Hermann/Linge team to win the 1954 Mille Miglia in the 1500 class and 6th overall.