Porsche today is recognised as a car manufacturer with a successful history in motor racing since the inception of the 356, but back in 1950. For Porsche to develop the marque and build its presence as a reputable car player, Ferry Porsche realised it was important to produce purpose built race cars. Walter Glöckler, a Volkswagen distributor and pioneer in developing custom built racers, utilised the Porsche 1.1 litre engine as a power plant in a configuration that Ferry took great interest in. Working in collaboration with Glöckler, the blueprint of the type 550 was designed and built.
The first three hand built prototypes came in a coupe with a removable hardtop. The first (550-03) raced as a roadster at the Nürburgring Eifel Race in May 1953 winning its first race. Over the next couple of years, The Werks Porsche team evolved and raced the 550 with outstanding success and was recognised wherever it appeared. The Werks cars were produced with differently painted tail fins to aid recognition from the pits. Hans Herrmann's particularly famous 'red-tail' car No 41 went from victory to victory. Porsche was one of the first car manufacturer to get race sponsorship which was through Fletcher Aviation, who Porsche was working with to design a light aircraft engine and then later adding Telefunken and Castrol.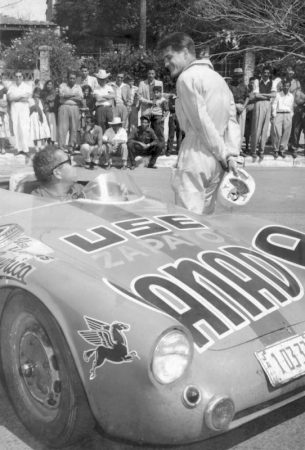 The Porsche 550 spyder became an active participant around the European and US championship circuit between 1953 and as late as 1965 starting in over 370 races. With approximately 95 overall wins along with an additional 75 class wins, the spyder dominated against more powerful cars not even in its class. With a mix of international drivers from Jack McAfee, Ken Miles and Wolfgang Seidel to legends such as Huschke von Hanstein, Helmut Glöckler, Hans Herrmann and Richard von Frankenberg, the spyder was well represented at famous circuits around the world. From the tracks of Avus, Nürburgring, Le Mans and the Targa Florio in Europe to the more active competitive circuits found in the US at Sebring, Palm Springs and Lime Rock, the spyder which became the race car of choice for privateers, soon earned the reputation as the 'Giant Killer'.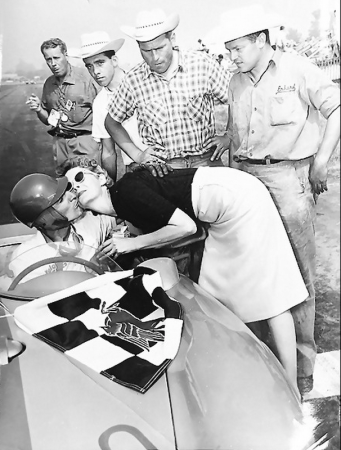 As I research each race and car I spend a significant amount of time cross referencing chassis numbers, drivers, dates and locations, along with 1000s of vintage race photos I have which usually don't lie about a spyder at a particular race. It is particularly difficult with the grass root US track racing where where drivers entered at the last minute, sometimes because they were underage and shouldn't be racing! I hope to have a very comprehensive race history built for each Porsche 550 spyder.