A new addition to my model collection arrived today, a 1:6 scale model of a 550 Spyder buck laser cut out of aluminium to go with my 1:18 scale model buck of the same. It is a mother of a model measuring over half a metre long. The model comes as a flat pack where the parts need to be popped out of the sheet and interlocked together to create the synonymous shape and mounted on a stand – it is truly a work of art.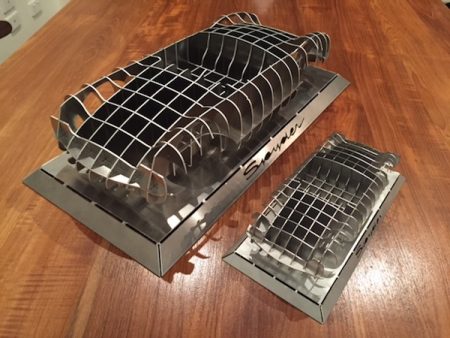 Mike Hoynck van Papendrecht is the founder of Aluwerke Ltd. He has produced a number of 1:18 scale 550 spyder bucks out of aluminium, which I bought one a number of months ago and loved it. What I really wanted was a big 1:6 scale model, so I did a deal with Mike and swapped a big buck for some Autopulse fuel pump manifolds – we were both happy.
Mike has always had a love for Porsche 550 spyders and like many started with a fiberglass replica to work on. Over time he wanted to improve on the body shape and make it more like an original, replacing panels in aluminium, and in the process started a small cottage business for himself fabricating accessory parts in alloy to fit Porsche spyders.
It all started with a half tonneau in alloy which Mike made for the owner of an original 550. Although simple in shape, it is very complex to achieve the correct lines to contour the shape of the car's body, so there was much trial and error. The owner was so impressed he ordered more for other spyders in his collection and then word got out and orders started to flood in.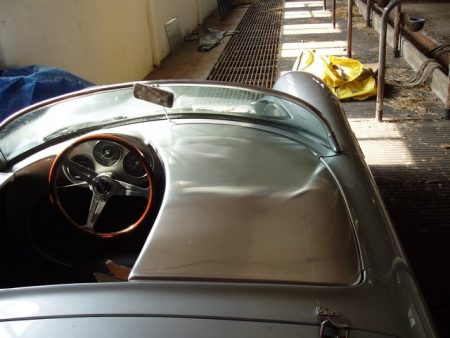 Once he mastered the tonneau, Mike moved onto other parts such as the racing mirror housing and slotted oil cooler grill, both with precise measurements off an original. Many of the spyders were later fitted with a driver's headrest, but it wasn't until the production of the 550A Spyder they became standard to conceal the rollbar as part of the new FIA safety regulations. Using measurements from a number of 550s, Mike consolidated them to a size that was compatible with most replicas with an edge to contour along the Spyder's rear clam shell.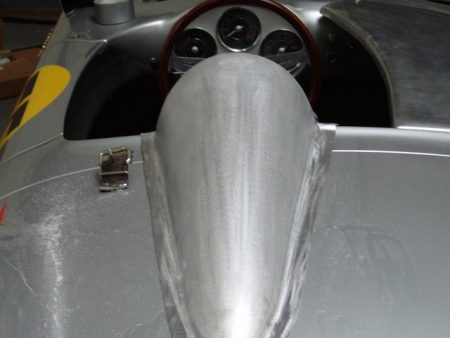 Mike is now getting fairly serious with his Spyder building and fabricating skills and is producing an exact tubular chassis to build a correct body onto. Like anything, the more you get the cheaper they are, so there are a few extra chassis builds on the go and are for sale too. To ensure precision in the build, Mike has a 3D render of the body of an original 550 and to raise some funds for the build he made the models.
Fitted to my spyder I have one of Mike's mirror housings and oil grills and the quality and fit are exceptional. If you want any of Mikes parts or an alloy buck, send me an email and I will pass on his details.