It was sad to hear Joe Sheppard, a Porsche racing legend for the 1950s, passed away this week on Sunday 13 October 2019 at the age of 91.
Joe was a very successful driver, racing the local scene around the Florida area where he grew up and lived. Joe started racing a Lotus 9 in 1955 against the greats of the day like Moss, Hill and Fangio, where he earned the nickname 'The Tampa Hot Shoe' for his modesty and skill as a driver plus the shear ability to lead each race in a range of race cars including Lotus, Maserati and Porsche, taking many chequered flags. His racing passion was supported by his father Jack, himself a driver, who also tested his skills and promoted his foreign car dealership – Sheppard Import Motors, by racing on airport tracks in the south eastern USA, including the 12-hour international race held at Sebring.
After building an unbeatable reputation in a Lotus, Joe was drawn to Porsches, with racing no less than five in his career, but his favourite was the Porsche 550A.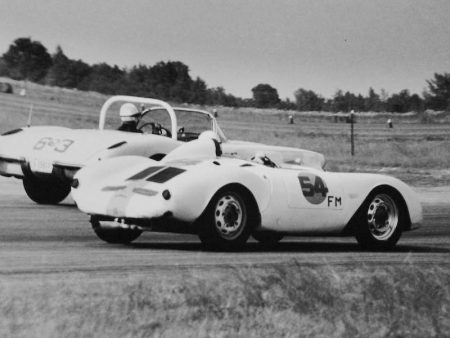 The first spyder Joe got behind the wheel of was 550-0068, which was previously owned by Mike Marshall, who managed to damage the front end in a race accident. With Porsche's latest model released being the 718 RSK, Marshall thought the nose section of the new model would look better grafted on the 550 body. Joe had just returned from serving in the army and at the age of 30 was keen to get back into racing, so racing friend John Cuevas convinced Marshall to sell the car to Jack Sheppard Sr for Joe to race with.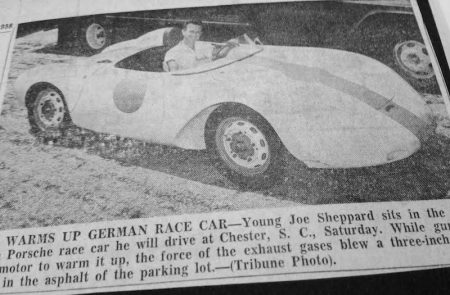 Joe first took the spyder out at the Chester airport track on 16th May 1958. The car was very difficult to drive compared to all the other cars he had raced. It was thought the new nose made the car unbalanced especially when cornering. Fritz Schiedel was Jack Sheppard's German born Porsche factory trained mechanic and decided to drill holes in the chassis to lighten the rear of the car to help rectify the problem. Joe raced it again at Gainesville and encountered the same problem, so he never raced it again. Jack then sourced a 550A for Joe to race while 550-0068 remained at the back of the workshop.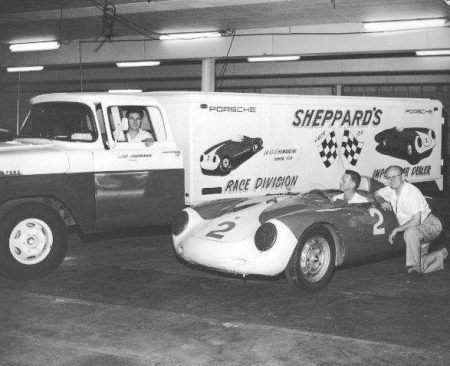 Joe raced two 550As in his career, with his first previously owned and raced by John Cuevas and painted with a colour scheme of a red body and white front end, similar to the one raced by Jack McAfee. It is still unconfirmed which 550A chassis number this spyder was. The car was purchased mid 1958 and entered for the first time in the 6 hour race in Venice, Florida where he finished first ahead of Roy Schecter, also in a spyder. Joe raced the red 550A throughout the season with podium finishes at most events, with his last race at Miami in May 1959 finishing first in all three races entered.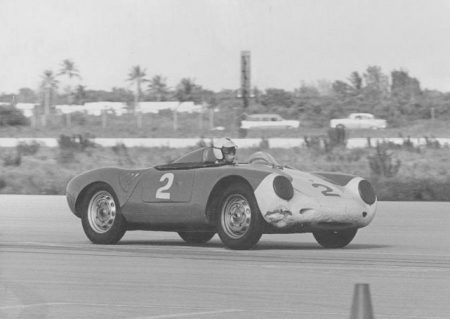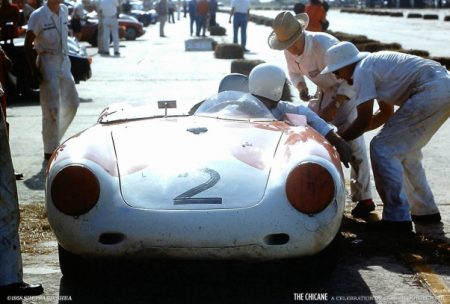 By September 1959, Joe was racing a factory delivered 550A, which was a spyder allocated to legend driver Jean Behra, but tragically he was killed at the Avus track in Germany the month before. Fritz Schiedel heard a rumour about a silver spyder, 550A-0144, in storage at the Porsche factory racing department and convinced Jack Sheppard to contact Porsche to make arrangements to purchase it for Joe.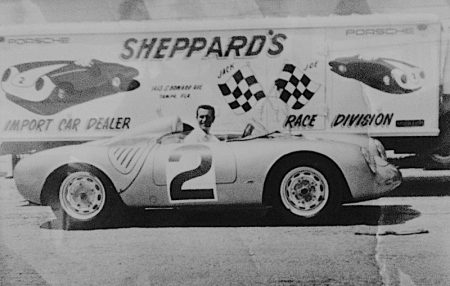 In some publications, 550A-0144 has been incorrectly documented as being owned and raced by Ricardo Rodriguez, but researched has confirmed Jack Sheppard was the first owner of this car. Joe's first race was on 6th September 1959 at the 4 hour Alamar race in Cuba where again he finished first. Joe's race number was traditionally #2, but depending on other race entries, he sometimes changed it to #21 or #32.
.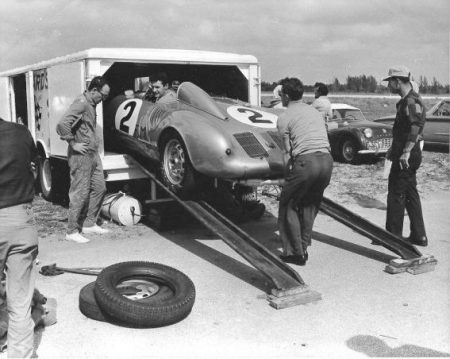 The February 1960 issue of Pit Patter, the magazine of the SCCA's Central Florida Region, featured Joe's silver 550A-0144 at Dunnellon in January that year on the front cover.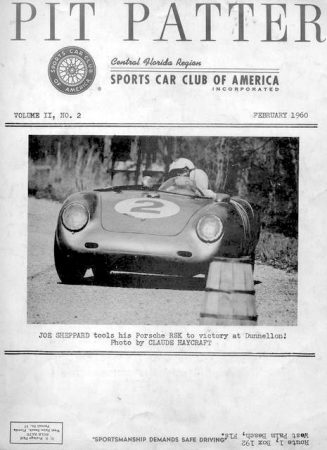 A vivid memory of Joe's racing determination to win, was shared by Willem Oosthoek, recalling one of Joe's last races at the Amster's Field race in Miami in April 1961. "Chuck Cassel's RS-61 led from the start, but by the time he made his mandatory pit stop, Sheppard had wrestled first place from him. But before he could make his own stop, Joe blew a left rear tire on the back straight and lost valuable time. With one hour to go, he drove a flat-out race trying to catch Cassel. It finally happened when the RS-61 retired with a locked differential. By then Joe Sheppard had no brakes left, an inner tube could be seen through his left rear tire again and he had even worn a hole in the bottom of his racing boots. He took the chequered after 102 laps, three laps ahead of second-place Bob Kingham in a D-type Jaguar. It would be Joe's last overall victory."
I would like to thank Jack Shea for sharing the stories and personal collection of photos of his friendship with Joe from an early age, which was a bond that has stayed strong and true throughout his whole life and nurtured his passion for motor racing and the history of these cars.