Sebring was a 12 hour endurance race held on an old World War II military airfield in Florida. As early as 1954, Porsche 550s had been entered into the US East Coast race brought across from Europe with drivers such as Segura and Bojanich, along with some locals, Hanna and Hunt with respectable class results. Six 550s raced in the 1955 event creating a Porsche dominance within its class.
It wasn't until 1956 that the FIA appointed Sebring as the sole US event to count for points towards the World Sports Car Championship. Porsche was invited to send two teams across from Germany which travelled on their limited travel budget by banana steam boat, headed by racing manager Huschke von Hanstein. Compared to LeMans 24 hour race, the Sebring 12 hour should have been an easy task for the Werk's teams. No 41 was teamed with Hans Herrmann and Wolfgang von Trips in 550-0081 and No 42 a blue 550 factory spyder was teamed with Herbert Linge and US driver Ed Crawford.
With the opportunity to race in such an event, racing enthusiast John Edgar entered his 550 sypder – 550-0070 at Sebring as No 43. Two local drivers who had made a big impact on the west coast circuits Jack McAfee and Pete Lovely were chosen to drive.
Being later builds, the Werks spyders had modifications made to them to make them both lighter and faster, so for Edgar's team to become competitive, it was more of a tactical approach, driver's skill and a little bit of luck needed. Other teams at Sebring included Fangio in his Ferrari along with racing greats such as Phil Hill, Carroll Shelby, Mike Hawthorn and Stirling Moss to name a few.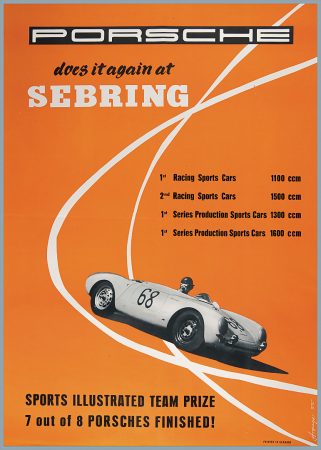 On the day, 58 drivers started with the three spyders in constant battle vying for lead position. On lap 109, the blue Spyder broke its front spindle and had to retire. For the remaining factory car to win, von Trips pushed the 550 to near breaking point revving the engine well into the redline to catch McAfee, resulting in first in class and 6th overall. Just behind was McAfee coming in second and 7th overall. It would have been embarrassing for the factory to have a local privateer beat the best from Germany.
The following year, 1957, saw more Porsche privateer teams entering Sebring also with great overall results against the more powerful cars. First in class was Bunker and Wallace in No 44, followed by Kunstle and Miles' No 45 in second position. Other teams had gearbox problems forcing them to retire, including Scott & Bott in No 42, McAfee who teamed up with his 1956 German rival Herrmann in the Werks car No 41 and the team of Crawford and Stewart in No 43.
The years ahead once again saw Porsche on podium positions at Sebring starting with the RSKs just behind the more powerful Ferrari 250s.