The Porsche 550 spyder was given a limited colour palette when it came to paint combinations. Primarily, the choice was German racing silver, French blue, white, red or a special yellow requested for the Belgium racing team and only delivered on 550-0082. 550-0080 originally came in a brownish green coloured body with white hood and darts, but was later painted to red with the white hood similar to the Swiss racing team livery. Some of the prototype 550s explored metallic blues and greens including 550-05, 550-06 and 550-07.
When it came to the Werks racing team, it was always silver with the painted tail darts distinguishing the main different between each driver's car, with red, blue, green and yellow, along with the individual race numbers. There were two spyders that wore a white front bonnet on the red painted body which was for the Swiss racing team – 550-0028 and 550-0079.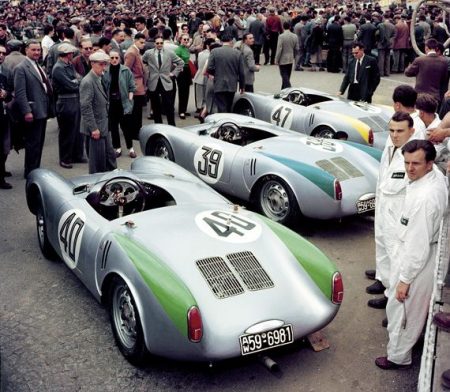 Over the years many owners customised the colour of their car to either reflect a team's livery or as a personalised individual choice, including stripes down the centre of the body.
All the frames were delivered black, but at the factory, depending on the colour of the body, the tubing section within the cockpit area would be painted to match to the body colour, except for silver where it was painted silver or remained black.
The rear tail light assembly cover was often painted silver, especially with the French blue body.
The seats and the trims were finished in a hard wearing vinyl with a barber pole ribbed pattern. Colours available included red, black, blue and beige which also came in a basketweave pattern.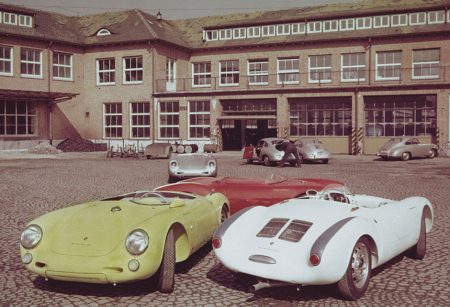 Today during restoration of these spyders, the original colour combinations are not always followed which is a pity as the factory delivered colour schemes accentuated the lines of the car's design.