Since 1993, the Ennstal-Classic mobilises the 'Who's Who' of the international racing, rally and sports scene with the likes of Walter Röhrl, the first winner and other legends like Sir Stirling Moss, Sir Jackie Stewart, Niki Lauda, Sebastian Vettel, Rowan Atkinson and Patrick Dempsey. The four day festival in July includes three days of regularities based around Gröbming in the mountainous Austrian province of Styria, for cars built before 1973. The Ennstal-Classic is a ticket back to the youth for its participants; it stands for pure driving on the most beautiful Alp roads in Austria with outstanding cars in an atmosphere embossed by the passion for driving.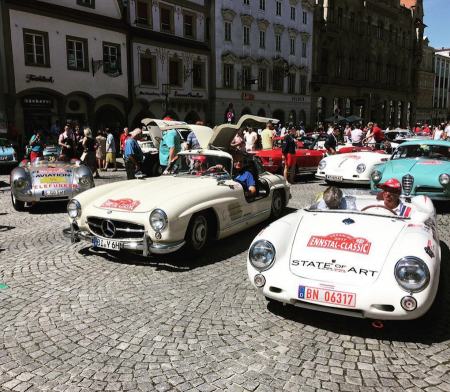 More than 200 classic cars are attracted to this event from all over Europe and is supported by many of the car manufacturer's, including the driving Porsche museum which brings every year the family jewels to Gröbming. Up to 100,000 people are likely to line the route of the event to cheer on the event.
The 550 spyders have always been a part of this event with a diverse array of different cars entering each year to race through the Alps like their predecessors did in the 1950s.