Besides the 1:1 Porsche 550 spyders that originally rolled out of the factory doors of Stuttgart, the diecast models of 1:18, 1:43 and 1:86 scales have always been a joy to collect over time. A year ago while searching for new ones to collect, I came across an artist who has taken car modelling to a new level. Stéphane Dufour sculpts more like a car designer shaping a master buck using the traditional clay sculpting methods and then casts the finished result in resin as limited number pieces. His passion is also Porsches and to date, he has created iconic models like the 917, 356, 911, 993 and of course the 550 spyder.
The sculpting process removes all the fine detail from the original car design leaving it with a silhouette style finish where the model of car is instantly recognised by the simplicity of the shape. The finished product is streamlined and fluid especially when the light captures it which makes it both modern and classic.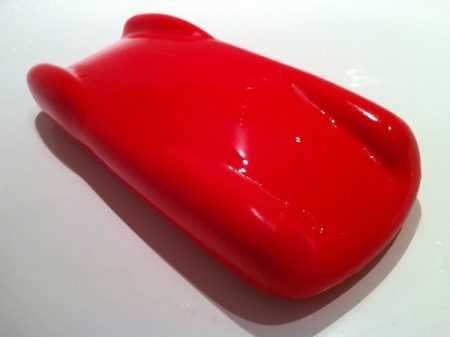 In 2011, Stéphane made his sculpture master in clay of a 550 in a large scale – 1:14. Using the process of making a silicone mold, tinting the resin and then the careful and slow process of pouring and curing, it took three months to create the new model for the series. From this he made a limited edition of 12 sculptures in tinted resin. With the range of factory colours, they were each hand sanded and polished to release the rich lustre of colour within the resin. At 34cm in length, they each weighed about 3kg and were numbered and signed by the artist as limited editions. Recently Stéphane experimented with four additional models by painting them in silver and adding red racing darts along the rear fenders reminiscent of the LeMans racing days.
As a true artist, Stéphane also extends his skills to automotive illustrations and limited edition clothing where a new 550 spyder design will be added shortly. You can find more of his range here.