The Porsche Museum is hosting an exhibition until March 2014 celebrating '60 years of super sportscars'. One of the classic Porsche race cars showcased is 550-0018. Although the third chassis number produced in January 1955 along with 0016 and 0017, 550-0018 is recorded as the first built 550 Spyder on the 15th January. As the first delivered customer car, it was used in the original European Porsche print ads to promote the new Spyder model and also more recently featured in one of the Boxster TV commercials.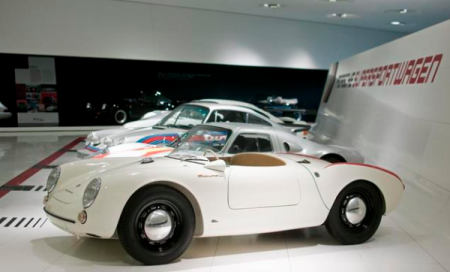 The car was assigned to Kurt Ahrens, a privateer who purchased the Spyder to further his racing career. With his Spyder racing debut at the British Empire Trophy in April 1955, he finished in 15th position. He raced it again the same month in the GP Bordeaux finishing a respectable 1st. Ahrens raced in numerous races over the next couple of months including the Eifelrennen Nürburgring with various results, but shortly after sold the car and continued his career in a Mercedes-Benz 300 SL. 550-0018 was later owned and raced by Friedrich Kretschmann and Sepp Liebl.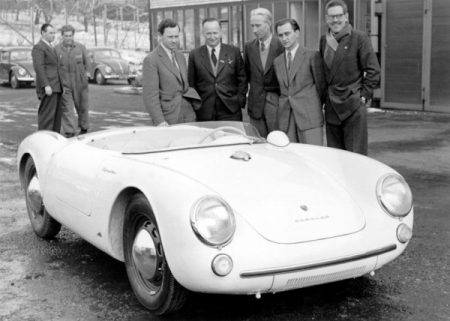 The first three customer Spyders produced were painted white in color when they left the factory. During the restoration of 550-0018 by a previous owner, the car was finished in silver and even up until 2012 the car was silver when displayed at the Windsor Castle Concours.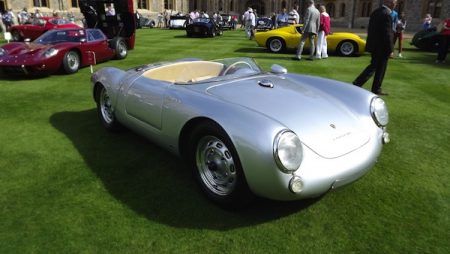 Recently the Spyder has changed hands once again and rumoured to be now owned by a member of the Porsche family. Since then, the car has been restored to the original white with red darts livery and additional original finishes such as the rubber strip on the nose has been restored. 550-0018 is a beautiful example of the early customer Spyders and it is great to see it on display for everyone to appreciate.
Exhibition photos thanks to Roberto Rossatti