Motor racing in the '50s was very much a male dominated sport. At most weekend events in the US, the program usually included a ladies race to encourage some competition amongst the women, but throughout Europe, it was rare to find a ladies event and they had to compete in the same races as their male counterparts.
Most of the men weren't too enthusiastic about racing against women and although they all had their reasons, the majority were more afraid of being beaten by them. The Porsche 550 Spyder was a small, light and very agile race car and the female drivers found it the perfect car to burn up the tarmac in. There were quite a number of notable female drivers who scored a winning reputation on the track in a Spyder, including Ruth Levy, Loretta Richert, Betty Shutes, Jean Speidel, Louise Cano, Suzy Dietrich, Annie Bousquet and Gilberte Thirion.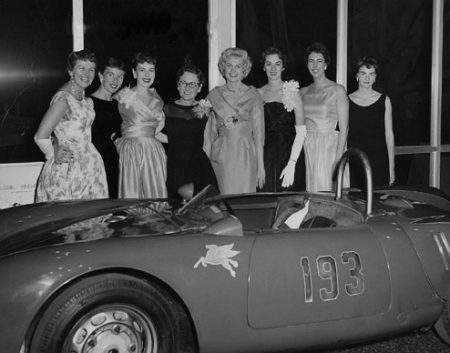 These 'Spydergirls' were always very competitive and skilled on the track and once they caught the racing bug of the Porsche 550 Spyder, it rarely let them down.
After a couple of years racing her Porsche 356 super, Ruth Levy moved to race for John Edgar's Porsche racing team along side fellow driver Jack McAfee. They shared Edgar's silver 550RS at a number of meets on the West coast throughout 1957, where she usually finished in first or second position.
For the America 500 mile race, Ruth teamed up with Denise McCluggage. Denise was always recognized trackside by her red polka dotted white race helmet. Starting her race career in a Jaguar XK140 in 1956, she soon moved into a 550A which she purchased in 1957. Besides racing her Spyder in the Venezuela GP and at Nassau, she also travelled across to Europe to race at the Rheinland Nürburgring in an Alfa Romeo Giulietta Veloce. Appearing at many local tracks like Lime Rock and Cumberland, Denise certainly made a name for herself. She ended her racing career in the late 1960s and eventually became the founding editor of the U.S. automotive magazine AutoWeek.
Annie Bousquet started racing in 1952 around the European circuits. She shared the driving with a number of experienced racers such as Josef Jeser and Gilberte Thirion. Annie had 550-07 rebodied into a Wendler bodied spyder in French blue. Before the 12 hour Reims race in 1956, Annie had to collect her modified spyder from Zuffenhausen and drive back to Reims just in time for the practice sessions. As she was very sleep deprived during the race, she crashed and rolled her car on a corner, killing her instantly.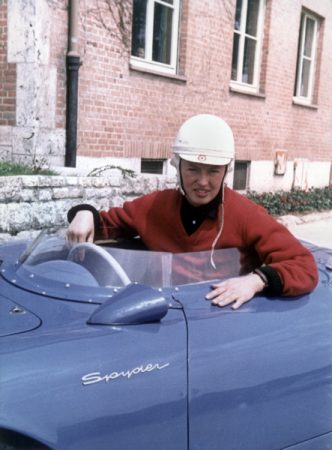 Loretta Richert lived in Hawaii and raced her red Spyder against the best drivers on the island. She was the only female member of the Sports Car Club of Hawaii and from 1957 to 1959 she achieved many wins on the track., with her three children among her fans.
Suzy Dietrich loved to race and from 1953 to 1967, she had a stellar racing career in a variety of marques. Starting in her husband's MG TC, she was allured by the Porsche 550 which she raced mainly in Ladies events with great success, including 2nd places at Dunkirk and Watkins Glen.
After Annie Bousquet's accident, the Automobile Club de l'Ouest, organizers of the Le Mans 24 Hour race, banned female drivers from competing, a decision only revoked in 1971 when Marie-Claude Beaumont drove a Corvette there.