Ernst Vogel had a very successful motor racing career between 1954 and 1959 piloting Porsche 550s, 356s and 718 RSKs. He originally started motorcycle racing in the late 1940s, but due to an accident, he was forced to switch over to car racing. His skills developed on two wheels were a strong asset when he started racing the nimble 550s, especially around airfield circuits.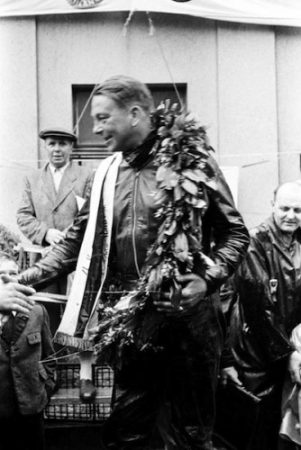 His first taste of a Porsche was in one of the early prototype 550s where he was victorious in his debut race at the Circuit d'Opatija track in Yugoslavia. In May of 1955, he purchased his own 550 Spyder from the factory – 550-0040 where he continued his winning streak a couple of weeks later at the Austrian Spa Prix.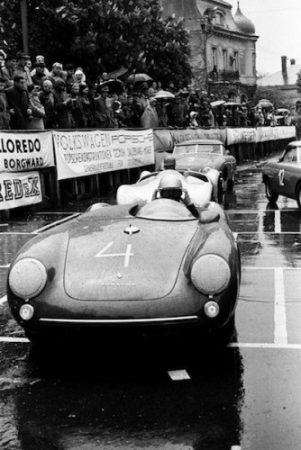 Like many of these early 550s, they were delivered with the rubber strip on the nose, but in future races, you can see that the car has been returned to the factory to have the air intakes cut into the nose to help cool the front drum brakes.
Until the early 1960s, Vogel participated in numerous airfield, road and mountain races, becoming five-times Austrian motor car champion and in 1959 was third in the European Hill Climb Championship.
Source: Tecknisches MuseumWien