Porsche 550 Spyders are well known for their successes on the track, usually on European endurance circuits like LeMans or the airfield tracks of the US. Once the 550As and the RSKs were competing in these races, the nimble RS550 weren't as fast against them and many were sold off for the latest offerings from the Porsche factory.
The 550s being light weight, found a new life as they were more suitable for both rally racing and hill climb racing, finishing with unexpected success. The 550s only needed a few cosmetic modifications to make them suitable for rally driving, mainly switching the single driver windscreen for the larger 356 speedster or split screen to accommodate the navigation pilot in the passenger seat as seen on 550-0038 complete with vinyl roof. This Spyder competed in the 1960 XI Volta rally in Portugal driven by Cipriano Flores.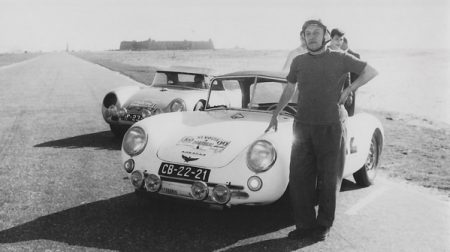 In 1957, Heini Walter raced 550-0016, after being a successful track car, in the Mitholz – Kandersteg National Hill climb in Switzerland. A number of 550s were also drilled for lightening throughout the chassis to reduce weight for greater speed, such as 550-0073. It is interesting how the sleek shape of the 550 was easily transformed into a rally car to create a new era in racing for the Spyder.