With the completion of the Mexican section of the Panamerican Highway in 1950, the Mexican government organised a nine-stage, five-day race across the country to promote business connections into Mexico. The Carrera Panamericana was a sports car racing event on open roads, similar to the Mille Miglia and Targa Florio in Italy and counted towards the World Sportscar Championships points.
With a recently appointed Porsche distributor in Mexico and strong competition from privateers, the factory saw the opportunity to promote their range more in the Americas and also introduce their sponsor Fletcher Aviation. In 1953 there were four classes to compete in. The Europeans strongly contested the sports categories, and the Americans the stock. The Large Sports Cars was won by Juan Manuel Fangio of Argentina in a Lancia, and the Small Sports Cars by José Herrarte from Guatemala in a Porsche 550 coupe.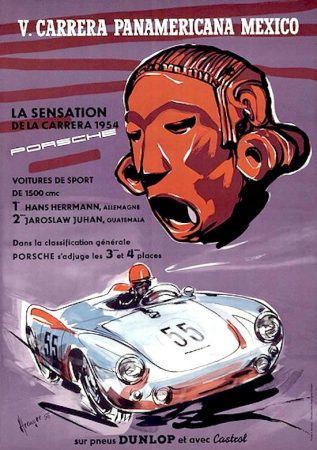 The 1953 race saw four Porsche 550 entries, No 152 which was the 550 coupe 550-02 bought off the factory by José Herrarte who raced it with Gonzalez to first in its class and 32nd overall. The other 3 entries No 154 (550-01) entered in by Jaroslav Juhan plus the two from the factory – No 159 (550-04) and No 160 (550-03) were retired by the second leg despite new 1500 push rod engines fitted. Herrmann's 550 had mechanical problems and Karl Kling's race finished due to an accident. The race by this time had a reputation as the most dangerous race in the world with only a third of entrants typically finishing.
1954 saw the return of the 550s to dominate the race, with Hans Herrmann taking out first in class in No 55 (550-04), Jaroslav Juhan coming in second in No 55 (550-12), Segura/Linge coming in forth in No 58 (550-06) and Salvador López Chávez in No 51 (550-01) coming in 5th.
Following the 1955 Le Mans disaster, the Carrera Panamericana did not run again as they could not guarantee the safety of both the participants and the spectators along such a long course, as the drivers had a 'win-at-all-costs' mentality.