As 550-12 was one of the four Werks cars, Porsche made ​​an extra effort in building the cars for their first Le Mans race in 1954. Additional supports were added to the beams of the Weinsberg chassis, while everything else was drilled and lightened including brake drums (still 40mm at both ends), the passenger seat was made of rattan, and a small driver's windshield fitted with an aluminium tonneau covering the passenger side of the cockpit for greater aerodynamics. The fins were tall and thin with aqua blue painted darts along and a hinged rear. A pan was fitted underneath the engine bay, with louvered slots to expel the hot air and to maintain the aerodynamic flow along the underside of the car. The car had a 95 litre fuel tank weighing about 545 kg dry and a balance of about 50-50 with a full tank, 55-45 in a vacuum.
Fitted with a third series type engine, number 547-09, it developed about 115 hp. It was also fitted with Weber carburetors for improved midrange power compared to the Solex carburetors.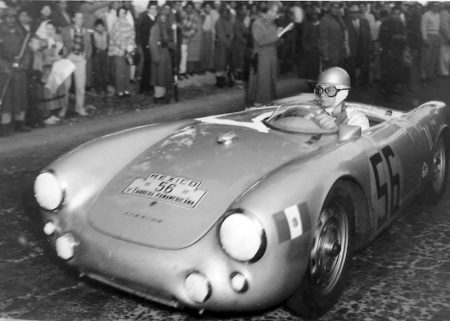 During the Le Mans race, 550-12 had the same fate as 550-10, where in the 19th hour, the car #39 with Claes and Stasse as pilots, also holed a piston. Running on only three cylinders, the car limped to the finish line to secure first in class ahead of a rival Osca. 550-12 was the overall winner in the September 1954 race at the Avus track in Berlin, with Richard von Frankenberg behind the wheel. Shortly after, the competition director Von Hanstein began selling the 550 chassis including 550-10, 12, 13 and 15. 550-12 was bought by Jaroslav Juhan who entered the car in the 1954 Carrera Panamericana race finishing 2nd in class and 4th overall. 

Juhan then took the spyder to the 1000 km Buenos Aires race where he won the category finishing first overall. While in Argentina, he sold the 550 to the Von Dory brothers, who were local Porsche dealers, where they competed with the car in South America from 1957 to 1959. Then the car went through four more Argentine pilots including Felix Malouf, who rebuilt the engine in 1964.