550-08 was a Weinsberg body and frame Porsche 550 and was completed in April 1954 painted in German silver with red darts along its high rear tail fins. It was tested for a short period on the German Autobahns before its first scheduled race. This 550 was the first of the new race cars to be configured with the hinged rear clamshell to enable easy access to the engine bay. Taking the design cue from 550-05, it was also fitted with a glove compartment and the ignition key was positioned below the gauge cluster behind the steering wheel. With two grills on top of the rear clamshell, along with two cooling louvers in the side of the body, Porsche engineers thought this would provide sufficient cooling for the quad cam engine #547-05.
550-08 was entered into the May 1954 Mille Miglia, which was a 1000 mile race around the towns of Italy. Porsche was not sure if their new car was ready for such an endurance race with little time to prepare, so team manager, Huschke von Hanstein had entered the car privately into the event and kept everything very low key before the race. Partnering Porsche Werks race driver Hans Herrmann was experienced mechanic Herbert Linge, who was on hand for any unexpected emergency repairs.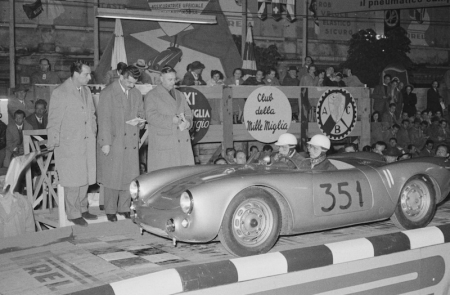 The car performed exceedingly well and after 12 hours, 35 minutes and 44 seconds on 990 miles of Italian roads they passed the finish line sixth overall and first in the 1500cc class. This was only achievable by taking risks such as the 90 mph dash under the closed boom gate at the railway crossing with the impending train within sight. After the event, the car was returned to the factory and paraded around the courtyard with the winning wreath of the front hood for all the factory team to see their hard work had yielded results.
550-08 raced in a number of other endurance races like the Tour de France finishing again first in class before it was sold to Claude Storez. The car was painted dark blue with white darts but still retained the type 547 engine. Storez raced it to many victories throughout Europe during 1955 and also co piloted with Bino Heinz for the GP Antananarivo in Madagascar also finishing first.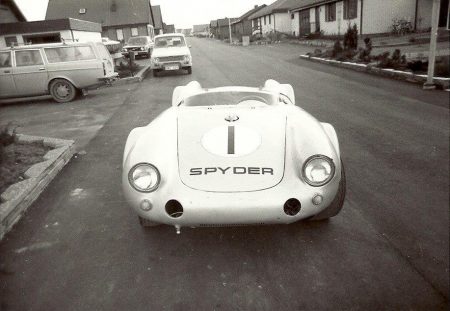 The car was unaccounted for a number of years before it was was racing initially in 1963 and then later used as a pace car at the Roskilde Ring in Denmark.