550-15 was the last prototype 550 to be built by Porsche, even though it was after the first production run of the customer 550 spyders which had commenced at the Wendler factory. Using the quad cam engine from 550-14 – #547-12, it was a Weinsberg and Porsche body build, possibly using a spare body from the Le Mans Werks 550s, which featured the high fins, side gills and external oil filler behind the passenger seat, but incorporated the new slanted headlight front found on the customer cars. The production wasn't finished until 12th March 1955, a couple of months after the new Wendler bodied cars had been delivered.
The spyder was sold new to Wolfgang Seidel who registered it in Frankfurt, in the region of Hesse. Seidel was an accomplished German driver and raced 550-15 from April 1955 until August 1956. He raced throughout Europe and the UK, usually finishing on the podium each time. Seidel entered the 1955 Mille Miglia (car #541) with co pilot Helm Glöckler, finishing 8th overall and first in the 1500cc class.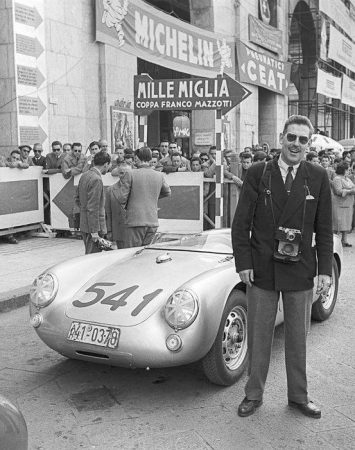 By mid 1955, 550-15's finned rear clamshell was replaced with a Wendler built one, which had the more rounded fenders and round tail lights, but without the side gills.