The 24 hours of Le Mans is the world's oldest sports car endurance race, held annually near the town of Le Mans in France. It consists of both permanent track and public roads that are temporarily closed for the race. As an endurance race, the focus was on the reliability of a car, not just the speed, which became very popular with car makers such as Porsche and their new type 550.
The June 1953 Le Mans saw the 550 as coupes for the first time entered into the second round of the season – 550-02 under race number 45 and 550-01 number 44. With a driving team of Richard von Frankenberg and Paul Frère, Porsche took out first place again while 550-01 driven by Helm Glöckler and Hans Herrmann came in second only 2 kms behind. Equipped with a long range tank and a light aerodynamic body, the fuel efficient 1.5 litre 550 running on ethanol, proved to be a sure winner.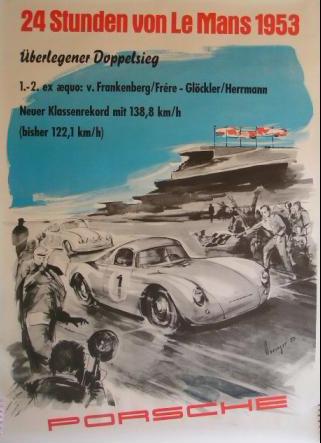 The Le Mans start had become a tradition with cars lined up alongside the pit wall in the order in which they qualified. When the French flag dropped to signify the start, the drivers would run across the track to their cars without assistance before driving away. Porsche had purposefully designed the 550 for this kind of start with the ignition key switch located on the left of the steering wheel allowing the driver to use his left hand to start the engine, and his right hand to engage the gear, which in turn saved precious time.
The 1954 season saw Porsche enter the Werks team of four 550s – 10, 11, 12 and 13, with Claes and Stasse taking out first position in the 1.5 class and Arkus Duntov and Olivier winning the 1.1 class.
The 1955 Le Mans saw the spyder awarded with The Index of Performance for the car with best combined speed and economy in the entire race field. With a mix of both Werks and privateer spyders, Porsche proved to be a threat to the Italian marques with a result of 4th, 5th and 6th positions overall and first in class against a field of more powerful cars.
The 1955 race was also marred with tragedy in which Pierre Levegh's Mercedes crashed into a crowd of spectators, killing more than 80 people. The incident led to the widespread introduction of safety measures to protect both drivers and spectators, not only at the circuit but tracks worldwide.