550-10 was completed in May 1954 by coach builder Weinsberg in silver with green darts along its rear fins. It was fitted with quad cam engine # 547-07 with Weber carbs and a 26 gallon endurance fuel tank with external fuel filler cap through the front bonnet, in preparation for the Werks entry into the 1954 Le Mans race. It was further fitted with an external oil filler cap on the side of the rear engine bay for topping up the oversized dry-sump tank (only the four 'Le Mans Prototypes' have this feature). The frame, body, brackets, starter motor and suspension components were all drilled and lightened to reduce weight.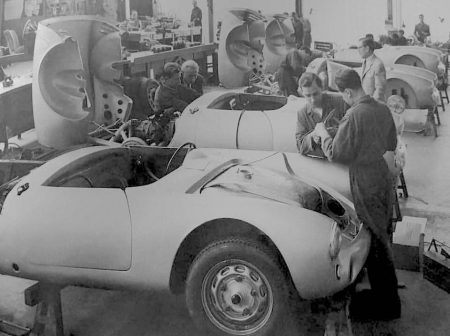 Helm Glöckler and Richard von Frankenberg were pilots in the June race but unfortunately did not finish due to engine problems. The car with race No. 40 was back in the pits within the first hour after only 21 laps with a holed piston. 550-10 was clocked as the fastest of the four Werks Porsches on the Hunaudieres (Mulsanne) straight with a top speed of 211 kph (131 mph).
The car returned to the factory for repairs and was then entered into the 12 Hours of Reims race. Driven by Olivier and Veuillet they finished 2nd in class and 9th overall. On August 1st, 1954 chassis 550-10 was entered by Porsche KG in the Nurburgring Sports Car Race. This was the sports car support race run after the German Grand Prix. In this race, the 550 was driven by 18 year old Porsche Factory Team Driver, Hans Herrmann who finished an incredible 1st overall with the remaining top four spots also filled by Factory Porsche Team 550s. Chassis 550-10 was then entered in the September 19th running of the Avus Sports Car Race where it was prepared with a different windshield and rear wheel covers in a further attempt to create better aerodynamics around the banked track. The last race was the Hockenheim in May 1955 where Mathieu Hezemans finished 5th.