550-05 was completed in September 1953 and displayed on the Porsche stand at the 1953 Paris car show the following month, which revealed the first of the Fuhrmann Type 547 quad-cam engines in a Porsche. The roadster represented Porsche's vision of a customer sports car and was on show to see if the interest justified a production run of the car. As a fixed back rear 550, it was a unique design with a single middle grill plus a bulge in top of the engine bay door to clear the new engine fan shroud of 547-02. All future 550s featured two side by side grills centred to the hinged rear for air flow and no bulge. Bodied by Stuttgart's Weinsberg, 550-05 was designed very much with the customer in mind with luxuries such as a glove box and side windows. The car also was fitted with knock off disc wheels which was thought to be the future in racing wheel.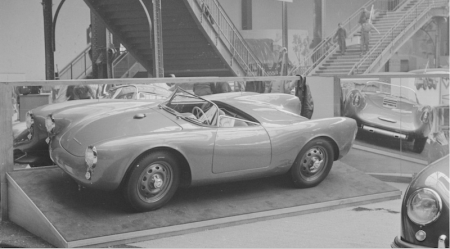 Although both 550-05 and 550-07 were constructed using the same body designed by Porsche, both bodies were built by two different coach builders. 550-05 was built by Weinsberg while 550-07 was the first to be built by Wendler in secret to see if their production process was more efficient.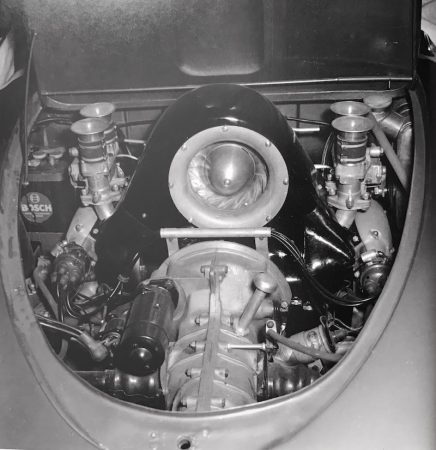 By January 1954, 550-05 was shipped down to Brazil with a Porsche push rod 1500 engine fitted, which was a necessary practice for Porsche so they could reuse the expensive and new quad-cam engine in a factory racing spyder, as they always had the intention to sell the 550 after the races. Porsche factory driver Hans Stuck raced 550-05 on behalf of Porsche in the Rio de Janeiro GP and Sao Paulo GP races.
Shortly after, Stuck sold the car to the owner of a lottery network in Brazil – Richard Fasanello who hired a young driver Bino Heins to race it for him. There was a disagreement regarding the non-payment of the 550 so Porsche manager Herr Kern decided to repossess the car and it was stored at Tressacima VW dealership in Brazil for a number of months until it was later resold to Heins.
Heins raced the 550 in Uruguay, but due to contaminated fuel, the engine exploded destroying it and resulting in serious damage to the car as well. 550-05 was repaired at a local workshop and was given one of the new quad-cam engines from the factory and a new front end similar to the 550A with slanted headlights that had recently been released. Before leaving for Europe to race, Heins sold the 550 to good racing friend Fritz d'Orey who raced it on the 17 June 1956 at the Interlagos Centaur Motor Club race (2 hours of Speed race). The 550 was painted red in colour with livery promoting 'DKW Auto General' which was a dealership belonging to Fritz's father.
The car was later repainted silver and piloted again by Heins on his return to Brazil in a few races including the January 1957 1000km Buenos Aires race where it did not finish.
Later in 1957, d'Orey as a novice pilot won his first victory in a race called '15 Turns Interlagos for Newcomers'. Fritz entered five races with 550-05, four at Interlagos and one in Rio at the Boa Vista Circuit. The power of the quad-cam engine was difficult for d'Orey to master and in one race lost control and crashed into a house. With financial support from the owner of the Eucalol soap company, the spyder was repaired, but was now registered as the 'Eucalol Special'. Fritz d'Orey raced the Porsche spyder until 1958. The car was sold and went through several owners until it disappeared.