550-0084 was completed on 10th April 1956 in ready for the Mille Miglia. The silver spyder with blue darts and blue interior was fitted with engine # P90088.
Delivered in Vienna in April 1955 to Gottfried Köchert who came from the same dynasty which was known as the 'Imperial and Royal Court Jeweller'. He was born in 1918 and at the age of 38, he ordered a Porsche 1500RS 550 Spyder from Zuffenhausen, which was regarded as the strongest among the 1.5 litre racing cars.
He entered his debut race in the same month of delivery – the gruelling Mille Miglia in Italy. After running the car in prior to the start, the privately entered Spyder had about 3,200 km on the speedometer. He was allocated the starting number 432 (which indicated the start time of 4:32am in Brescia).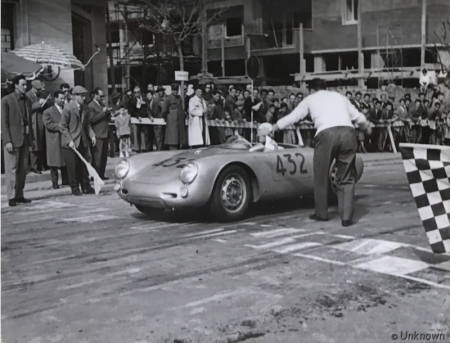 Along the first leg to Rome Köchert's Spyder was unbeatable: it was the fastest Porsche Spyder in the 1.5 litre sports car class and provided a distance duel with world racing legends like Behra and Villoresi. When he reached Florence, the motor failed as it had not been serviced or adjusted in the 4,500 km since new and he had to withdraw from the race. The engine #90 080 which was fitted to the car was replaced with the later 550A quad cam engine – #90 130.
On the 11th August 1956, 550-0084 was entered into the Nurburgring GP in Germany with an overall result for Köchert of 8th but a podium finish of 1st in the 1.5 litre class. That was the greatest success of an Austrian racing driver post war.
Köchert sold the Spyder the following year and shipped it to the U.S. as he had purchased a 2-litre Ferrari Testarossa for the 1957 season. The car was purchased by New York broadcaster, John Cochran from Miami. Cochran was only new to racing, having raced a friend's 356A at Montgomery and Nassau the previous year. He entered the 3 h Sebring as his first race in the 550 finishing a respectable 4th. He raced the car in numerous races throughout the 1957 season before selling the car to seasoned driver, Bob Thomas in 1959. Thomas only raced the car a few times the following year.