550-0080 was completed on the 3rd April 1956 and according to factory records, it was painted green with a white hood, white darts and fitted with engine # P90086. The spyder was sent to the Portuguese Porsche dealer who sold it to a local racer Ruy Marinho de Lemos.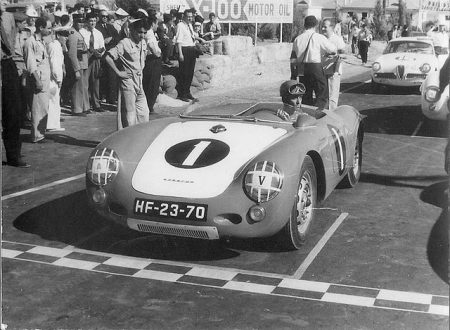 On 23rd April he entered the spyder into the Spanish GP where he finished 2nd. He raced at a number of Portuguese events like the Monsanto GP and Vila Real Pista International. In 1957 the spyder was painted red with a white bonnet and was raced at Monsanto and Luanda (Angola), and entered into a number of rallies and minor events. In 1958 it was raced at Vila Real and again at Luanda, before it was sold to Jorge Moura Pinheiro in 1959 where he won at Monsanto.
By 1960, the spyder was painted silver and owned by Joaquin Felipe Nogueira who entered it into the 1000 km Buenos Aires race finishing 4th overall. Nogueira kept racing the spyder until 1963.