550-0017 was completed on 19th January 1955 as a white spyder with blue darts and beige interior. It was fitted with a quad cam engine # 90003 and was the first 550 spyder to be exported to the US.
Max Hoffman placed his first order for one of the new customer 550 spyders on the 3rd November 1954 on behalf of the new owner, Mr Briggs S. Cunningham from Green Farms, Connecticut. In addition to the spyder, he requested:
– removable full width windscreen
– removable top
– two spare Webber carbs including manifold
– 5 x spare wheels and tires
– axle ratio and gearbox ratio suitable for Nurburgring
– one spare gearbox
– one large gas tank
The car was delivered on the 17th February to Hoffman's VW dealership in New York as he was the Porsche dealer for the east coast. The details on the paperwork created a few issues where the car was listed as 550-0016, but with the correct engine number for 550-0017.
Briggs Cunningham was an American entrepreneur and sportsman, who raced automobiles and yachts. Besides the race cars he designed and manufactured himself, under 'Team Cunningham' he had a selection of Ferrari, Jaguar, Maserati, OSCA, Corvette, Porsche and other sports cars to race. Briggs took delivery of the spyder and entered it into the Fort Pierce races on 25th February 1955. Throughout the day a number of team drivers took to the track to try the new 550 spyder, including George Huntoon, Robert Davis, Bill Lloyd and Briggs. On the 13th March he entered into the 12 hour Sebring race, but with Porsche factory drivers Huschke von Hanstein and Herbert Linge, finishing 2nd in class.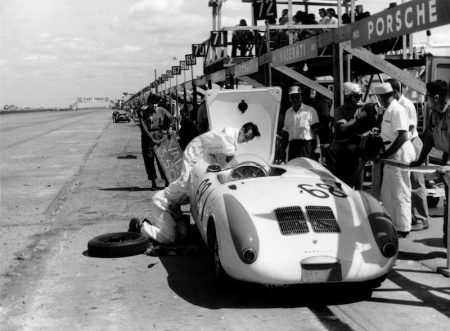 In late 1955, the car was raced by Bill Weldon, and then entered into the 1955 Nassau Speed Week in December driven by Austin Conley. Conley continued to race 550-0017 throughout the 1956 season at tracks like Cumberland, Thompson and Watkins Glen. In 1961, Suzy Dietrich raced the spyder at Watkins Glen.