The first Type 550s built utilized the Volkswagen-based Super 1500 opposed four-cylinder engine producing a scant 70 horsepower in street trim. The Type 528 1500 S engine wasn't going to be a threat to the Jaguars, Ferraris or Maseratis, but in their original prototype, Type 550-01 won its first race on the famed Nurburgring, and then it, along with the second example, Type 550-02, scored a one-two finish in its class in the grueling 24 hours at LeMans, the world's most prestigious sports car race. Those same two cars went on to triumph in the Carrera Panamericana, the fabled Mexican Road Race, whose name continues to be emblazoned on Porsches today.
Proceeding their initial success, Porsche engineers set about refining and finessing the 550, and a logical place to look for improvement was in the engine compartment. The pushrod 1500S engine was just a tweaked VW powerplant, so Porsche commissioned Ernst Fuhrman to draw up a sophisticated engine more befitting a Le Mans winner. The result was the Type 547 engine, an incredibly complicated roller-bearing-equipped quad-cam. These first four-cam engines took a skilled man 120 hours to assemble a complete engine, and the timing alone could take eight hours – sometimes fifteen if tolerances weren't just right.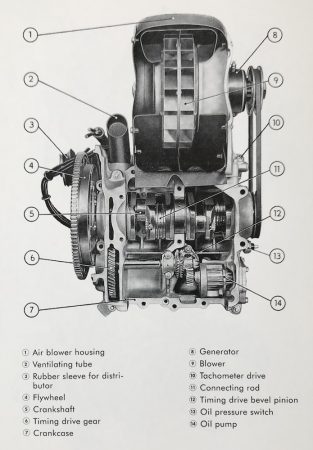 Engine: Air-cooled flat-four engine
Valves: Two-valve engine, two overhead camshafts per cylinder bank, vertical shaft drive
Displacement: 1,498 cc Bore x stroke: 85 x 66 mm
Max. power: 110 bhp (81 kW) at 6200 rpm
Mixture formation: Two Solex 40 PJJ double-downdraft carburettors.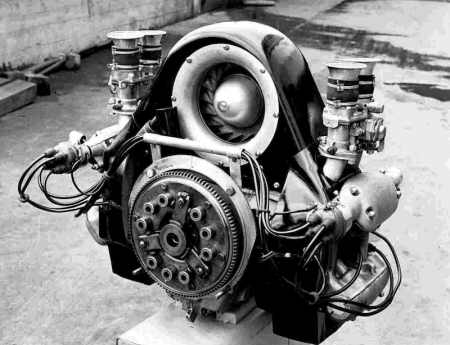 The substantial percentage increase in horsepower led to a similar increase in performance, and the Fuhrman-designed engine, though complex, proved very reliable even in long-distance events. Only 96 of the type 547 engines were produced for the 550 Spyder. The 550A and the 356 Carrera GT and GS shared the updated model Type 547/1 as a powerplant.
A number of 550s raced in the 1100 cc class at Grand Prix events. Some ran the Porsche 356 engine, but two 550s in the 1954 and two in the 1955 LeMans races used modified Type 547 engines. These 550s left the factory with a normal four cams 1500 cc Type 547 engine but were modified with a bore of 73 mm for the 1098 cc engine instead of 85 mm for the 1498 cc engine. The 1098 cc engine was being used as a prototype with 93 ps by 5500 U/min. There are no records how many of these engines were built.
Before the 550 series was retired, the engine would be revamped to produce 135 horsepower at a slightly less frenetic 7200 rpm.