The configuration of the type 550 interior was very simple, with the intention to keep weight to a minimum. The car was designed with the main purpose to race, therefore there was no need for unnecessary accessories. Every aspect was designed and positioned purposefully, from the technically advanced single push button start, which is now common on today's luxury vehicles, through to the Autopulse fuel pumps which were within reach for the driver to fix potential blockages. The tachometer was redesigned from the 356 with coloured bands and increments for optimum gear changing and performance. The speedometer was available in both kilometres and miles per hour depending on the country of delivery. The gear stick had a lockout box with a gate to reduce the risk of dropping into reverse accidentally when gearing down, while the lever handbrake was activated by the same hand. The Petri banjo steering wheel was 420mm in diameter and in ivory in colour with a Porsche crest on the horn button. Early prototype 550s were fitted with a red/brown or black coloured banjo wheel.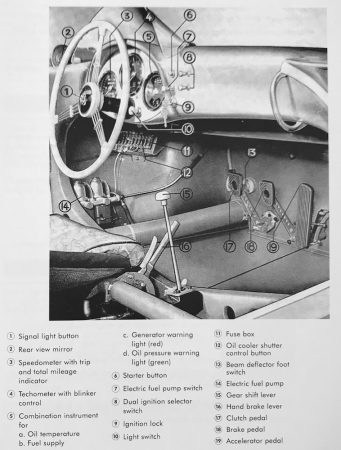 The seats were pressed aluminium and trimmed with coloured vinyl. Seat belts were not a mandatory requirement when racing in the 1950s, which resulted in a number of drivers ejected from their seats in crashes and rollovers, usually resulting in serious injury or death. Door handles were only fitted on the inside of the car to release the door lock. They were molten cast and chrome finished, similar to those found on the VW transporter of the day. It was common for Porsche and Volkswagen to utilise each others parts on their cars to reduce production costs on short run models. The floor was raised where the pedals were to allow the fuel lines to run back to the engine bay. Constructed using ribbed rubber adhered to plywood with thin joists, the floor was raised approximately 50mm off the floor pan.
Many races required participants to carry a tool kit and repair equipment while racing. Some 550s used the fasteners designed to attach the roof, to strap in the spare tyre. With the spare positioned in the passenger seat, it created a more balanced car for the driver. Beside the passenger seat, the car jack was buckled in with the handle protruding through the hole in the dash structure in the floor.