550-09 was produced along side 550-08 and was completed in April 1954. Similar to 550-06, the car was both a test car and a show car for Porsche. Finished in silver, it was in a Buckelwagen configuration built by Karosseriebau Weinsberg with a red interior. It sported a quad cam engine – #547-06.
550-09 was first used at Campione by factory drivers Hans Herrmann and Richard von Frankenberg as a demonstration car to assess potential Swiss driving school students to join the Werk's factory team. The Buckelwagen was also fitted with a hardtop for racing in inclement weather at the track.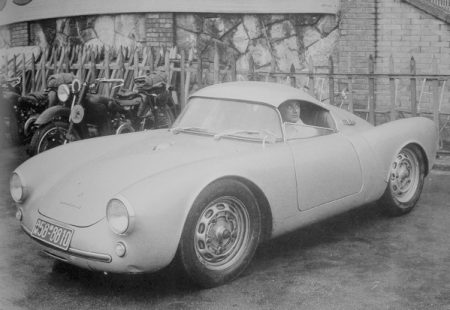 Following the victory of 550-08 at the 1954 Mille Miglia, 550-09 was painted with the race car's livery along with #351 and toured around the different Porsche dealerships throughout Germany for the next few months with the winning wreath displayed on the front hood.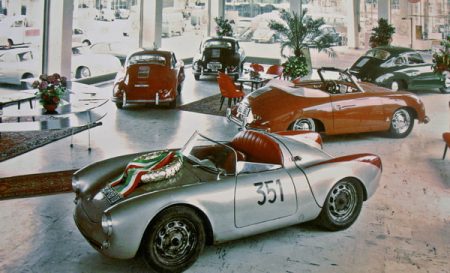 The car had the buckel removed and the low hinged rear fitted, along with a new special smaller bore 1100cc engine installed #547-10, and was shipped to the US where it was sold to John von Neumann.  Entered into the March 1955 Sebring 12 hour race with Paul O'Shea and Fritz Koster as pilots, they finished 23rd overall, but an impressive first position in the 1100cc class. For the 1956 season, Richie Ginther raced the car on the west coast before it was sold to John Peters who raced it in 1958.