One of the early prototypes, 550-06, built as a show car for Porsche, made its debut at the 1954 Brussels Auto Show. Compared to the earlier five 550s, Porsche had redesigned the body which would set a precedence for all future spyder builds. Originally thought to be 550-07, 550-06 was the first of the Buckelwagens which had the wide, high rear deck designed for its aerodynamic features.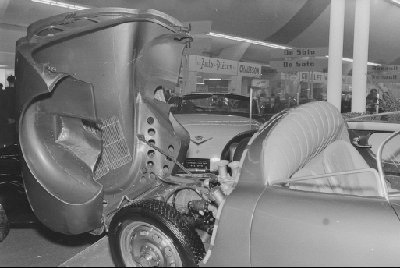 This buckle rear was also fitted to 550-07 and 550-09 (along with a hardtop roof) and even 550-04 was photographed with a similar body design. But the key design feature was the hinged rear which was an innovation to prove very successful on the track for quick engine repairs. Previous 550s had a fixed rear with a hood door to inspect and service the engine. 550-06's rear fully tilted up to gain unrestricted access to the whole engine bay. At the Auto Show, the design was given rave reviews to set Porsche up to sell their new range of customer spyders through their European dealerships and to export to the US.
Porsche was very good at the publicity game when it came to their car models and a family photo of the Porsche children in and around the car was seen as a great promotion.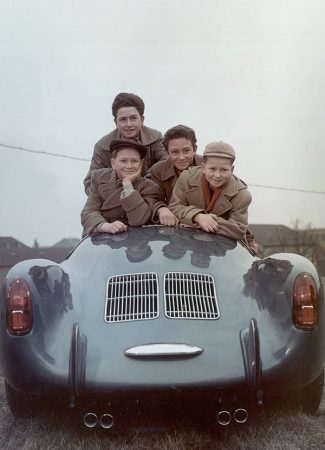 The buckle was removed for the 1954 Paris show and the new streamlined rear was fitted to the body and painted blue with red tail fins and rims. This design was to be adopted for the following season's Le Mans races where each Werk's car entered was painted with a different coloured fin to indicate to the pit crew which team was coming in and also to keep accurate lap times.
After a year of touring the auto shows including London and New York, 550-06 remained in the US and raced by Porsche dealer John von Neumann at famous tracks like Pebble Beach, Torrey Pines and Santa Barbara with great success. The body went through another transformation which was more for performance than looks. Large air intakes were sculptured into the nose to allow better cooling for the brakes on the short, tight airport tracks.
British driver Ken Miles also race 550-06 for Neumann around the circuit taking out podium finishes in most races during the '56 season. From October 1957 to early 1959, the 550 was piloted by Betty Shutes in both the ladies races against legends like Ruth Levy and also in many of the male dominated feature races, also finishing first and second across the line.