550-0056 was completed on the 21st July 1955 and was the only new spyder to be shipped to Australia arriving in October. Finished in the typical French racing colours of blue with white darts and tan interior and fitted with engine # P90060, it was ordered by the new Australian distributor for Porsche, Norman Hamilton.
The first race entered was the Rob Roy Hill Climb in November 1955, piloted by Les Murphy where he finished 4th. The car competed in numerous racing events, attracting legend drivers such as Jack Brabham behind the wheel, causing uproar at the Gnoo Blas 1958 South Pacific Championship in NSW, resulting in just a demonstration lap. Brabham went on to win the race in a Cooper T43.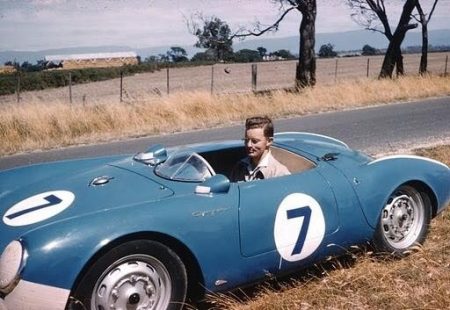 Another circuit driver Stirling Moss, drove it to victory in the New Zealand Ardmore Handicap, and then in the next race won the 1956 New Zealand Grand Prix in a Maserati 250F, with the spyder finishing 9th driven by Frank Kleinig.
It was entered as No 15 in the 1957 Australian Grand Prix at Albert Park Victoria with Ern Tadgell as the driver while still owned by Norman Hamilton, finishing 14th and then appeared again in 1958 at Fisherman's Bend Victoria with race number 37, owned and driven by Bruce Walton finishing 9th. In the early '60s it was owned by Lionel Marsh who converted it to a right hand drive car and raced it extensively in the Australian Hill Climb Championships with great success.