550-0048 was completed on 20th May 1955 and had been fitted with a 1098cc pushrod 4-cylinder Boxer Porsche engine # P90054 and was painted German racing silver with yellow darts.
Chassis 0048 was one of three sister 550 spyders manufactured during May 1955 in the Race Department in Porsche Stuttgart's Werk Nr 1 facility. The three cars were constructed specifically to compete in that year's Le Mans 24-Hours race, by far the most important endurance event of the motor racing season. The spyders were fitted with Wendler-made aluminium bodies, on which the oil tank filler caps were exposed on the right rear quarter instead of being hidden beneath the rear deck. The front rubber strip was also omitted in the updated design to allow two small-dimension oval cooling holes to be punched-through to feed direct airflow through to the front drum brakes.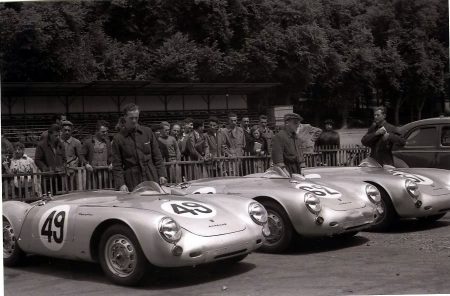 The spyder was entered into the 1.1 litre class at the June LeMans race piloted by American General Motors engineer-cum-driver Zora Arkus Duntov and Parisian dealer Auguste Veuillet. The former was on his way to becoming an extremely important figure within the history of the global motor industry, adding significant cachet to this Porsche spyder. Auguste Veuillet, meanwhile, would find favour as Porsche's French importer. At the finish line the spyder took the chequered flag and finished 13th overall, which was a great victory for Porsche. In August, the spyder was fitted with a four cam, 1.5 litre engine (no. P90054) and was taken to Sweden for the GP at Kristianstad and with Richard von Frankenberg behind the wheel, he also came first. In another race, the Tourist Trophy in Dundrod, von Frankenberg finished 3rd.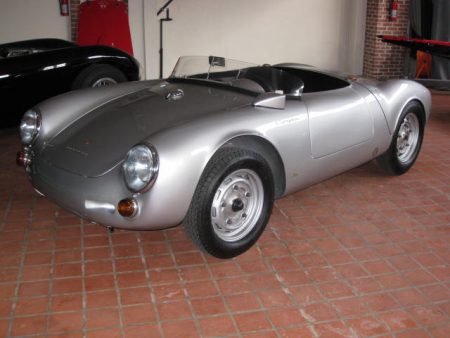 550-0048 was sold and shipped to the US for its new owner and Porsche dealer Art Bunker. Bunker raced the car at a number of events from April 1956 until his last race in the spyder at Nassau in December.