550-0045 was the last chassis allocated for the first production run of the customer spyders. Still retaining the original front end with the rubber strip on the nose, it was completed early June 1955 and painted in the Swedish colours of blue body and yellow darts, but with additional blue stripes across the front hood as requested by the new owner Gert Kaiser from Sweden.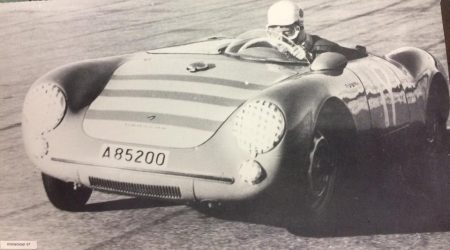 At the same time the Werks team took delivery of the Werks spyders which had the updated front end with air intakes for brake cooling cut into the nose.
On the 7th August Kaiser entered the GP Sweden Kristianstad finishing 4th. Along with co driver Max Nathan, Kaiser raced throughout Sweden, Denmark and Germany at tracks like the Nurburgring, Avus and Roskilde with many first in class wins. At some point the spyder returned to the Porsche factory for body upgrades such as the air intakes plus the modification of the chassis to a high rail frame, indicating the larger 60mm brakes were added.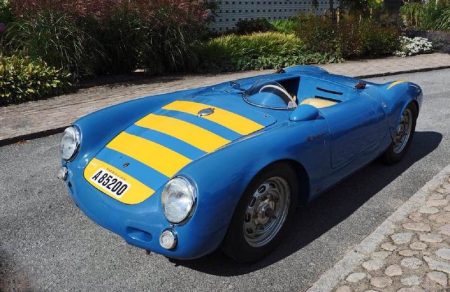 Early 1958, the spyder was sold to Harald Kronegard who raced it in Sweden and Finland with strong finishes, before the spyder was bought by Rolf Lundbom in 1960.