550-0030 was one of the Porsche Werks cars, but not allocated for team racing like LeMans. The spyder was supposed to be complete for the 1955 Mille Miglia race on the 30th April, but it wasn't ready until the following month where it lined up as a Porsche Werks entry in the May Eifel Race at the Nürburgring piloted by team drivers Karl Busch and Richard von Frankenberg finishing 11th in class. The silver spyder with red darts and beige interior was fitted the engine # P90020. Early in its racing days, the spyder had modifications made to the front nose where air intakes were cut in to help the cooling of the brakes. This did not become a standard feature until the second production run of the 550 spyder.
There are two races in September (Dundrod) and November (Venezuela GP) 1955 where it is uncertain that it was 550-0030 that raced, as there is evidence that it could have been 550-0046.
As a player on the international circuit, the Werks factory team car was entered into the South America for the Sportscar Grand Prix of Caracas, which was also known as 'Operation Caracas'  where a spyder was flown for the first time to a race, with Huschke von Hanstein driving the car to a class victory.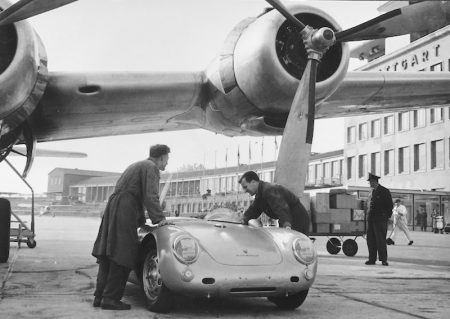 With Porsche's policy to sell their race cars after international events, it is believed that the spyder was then sold and made its way to the US where it was purchased by east coast driver Don Sesslar who raced it for the first time in late 1956 at Montgomery. After a full 1957 season, he sold the spyder to William Lewis who raced it until 1961 when Bill Bencker and John Kelly continued to race it.