550-0020 was the fourth customer type 550 spyder built by Porsche in Zuffenhausen and completed on the 2nd February 1955, with Type 547 engine number 90006. The body was painted blue with white tail darts and a tan interior.
The spyder was ordered by Max Hoffman, a New York based luxury car dealer, who was the first Porsche dealer on the US east coast. The car was purchased by Art Bunker,  a prominent US racing driver who owned a Porsche – Volkswagen dealership in Kansas City. The first race Bunker entered 550-0020 in was the 1955, 12 hour Sebring race. Although Bunker qualified in practice, it is unknown why the car was not entered in the main race.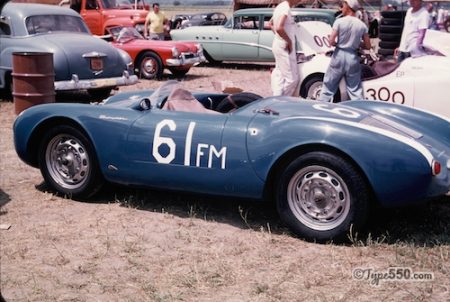 Throughout the 1955 season, Bunker raced at numerous tracks throughout the United States with podium finishes at most meetings. After the Midland race in July 1955, Bunker decided to repaint his car a bright yellow colour with a red interior and lined up for his next race at Kansas City in September 1955. Bunker bought 550A-0111 with his first race at Sebring in March 1957 and put 550-0020 on the market to sell.