550-0019 was completed on 27th January 1955 and exported to the US at the same time as 550-0017 to Hoffman's dealership. The new owner was experienced racer Ed Crawford, who wanted to upgrade from his Porsche 356 America. 550-0019 was blue with white darts, fitted with engine #90002.
On the 13th March 1955 Crawford entered the 12 h Sebring with co driver John Urbas, finished 5th in class. He regularly raced at Cumberland, Torey Pines and at the Nassau Speed Week where he finished 1st in a number of the races. In May 1955 at Iowa, Crawford used #69 on his spyder, which he continued to use for all other races (except for the 1956 Sebring) and he also added some additional white darts along the front fenders to match the rear. Crawford raced until the end of the 1956 season before he sold the car to George Reed who painted the car red, entered the 1956 Nassau Speed Week and shared his car with Suzy Deitrich who entered the Ladies heats.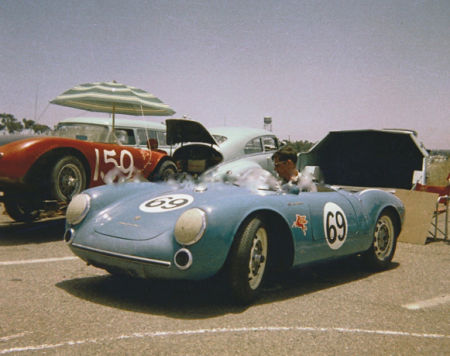 In early 1958, Reed sold the car to Dean Causey who raced it for a year until he bought a new Porsche 718 RSK. Causey sold it to good friend Lee Hall who successfully raced it at Lawrenceville and Elkhart Lake Road America races until 1961.