550-0018 was the first delivered customer spyder, which was collected by Kurt Aherns on 15th January 1955. The 550 was white with red darts and beige interior with engine number 90002. As it was the first customer spyder, there was a great photo opportunity to hand over the keys to the new owner.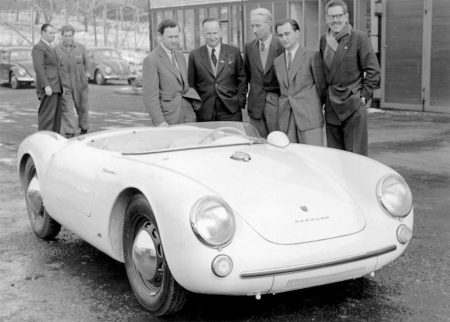 As the car was delivered in the middle of winter, it was a perfect conditions to test the agility of the spyder along with the driving skills of Aherns behind the wheel at an Ice Race at Lake Feden. 550-0018 proved to be the best on the track taking out the winner's trophy. Aherns raced the spyder at a number of tracks in Germany throughout 1955, including Hockenheim and the Eifel Race in May at the Nürburgring where he finished 9th in class.
In June 1956, new owner Sepp Liebl let Gonzague Olivier use his Spyder in the 1000 km Paris race at Montlhery as his spyder 550-0034 was involved in an accident in practice. Unfortunately Olivier crashed 550-0018 in the main race and didn't finish. With a new rear clamshell as some hasty repairs, Liebl entered the spyder into the Solitude race the following month, finishing 8th. To finish off the 1956 season, it was also entered into the German GP and Berlin GP at Avus.