550-0016 first went into production in September 1954. The build of this car was extremely time consuming as it was the first production car built by Wendler on its own frame, so they had to develop tooling and production techniques to ensure they could deliver the required volume of 550 spyders ordered by Porsche by the agreed schedule. With an additional three bodies in production by December, 550-0016 was not completed until 20th January 1955. It was the third car to be delivered with 550-0018 delivered five days before. The spyder was mated with the latest 1498cc type 547 quad cam engine design which started with the new numbering sequence of 90001.
To introduce the customer car range, Porsche had developed a limited colour palette of German silver, French blue, white and red. The first three spyders were white in colour and 550-0016 was finished with blue darts along its rounded rear fenders and a blue vinyl interior. Besides the mandatory Porsche crests on the front and rear, the 550s were adorned with two new badges, one being the teardrop badge of the coach builder Wendler which was positioned on each side ahead of the bottom of the doors, and also the new name 'spyder' which was a gold plated script positioned on the front quarter panel on each side. 550-0016's spyder script was positioned on an obscure angle from when it came out of the factory, but all other 550s had it positioned horizontally to the body.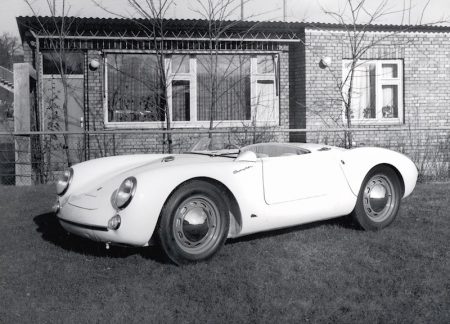 550-0016 was sold to Josef Jeser, who collected the car from the factory. The spyder was first entered in the April 1955 Solitude Rally where Jeser won. In June 1955, he entered 550-0016 as a private entry in the Le Mans race. Porsche supported his entry and helped prepare his car with a new 1,089cc, four camshaft engine – 90053 so he could enter the 1100cc class. The white spyder participated in all the team events along with the silver Werks cars. Driven by Gustave Olivier and Josef Jeser, it finished in 18th place overall and second place in the Sports 1,100cc class, having completed 234 laps at an average speed of 131.47kph/81.69mph.
Jeser continued to race at events like the German GP at the Nürburgring and the Berlin GP at Avus before he sold 550-0016 to Heini Walter in 1957, who raced it successfully in hill climbs throughout Germany, Switzerland and France, becoming the Swiss Sports Car Champion for the first time.