With over 135,000 spectators and 1000 drivers from 30 nationalities, the Le Mans Classic is a biennial vintage sports car event held on the grounds of the 24 Hours of Le Mans track. The race runs every two years in July on the full 13.65 km circuit also used for the annual modern day 24 Hours of Le Mans.
The Le Mans Classic event which started in 2002, was the first time since 1923 that the full 24-hour Circuit, part of which is public road the rest of the year, was closed specifically for an event other than the annual running of the 24 heures du Mans with contemporary sportcars and prototypes, thus allowing car owners and gentleman drivers to experience what it must have been to race these cars on this circuit. The whole atmosphere is electric with a dress code from the 50s to the 70s a must, to fit into all the on field events.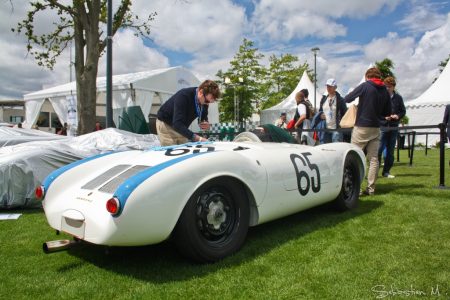 Similar to the Mille Miglia, the event consists of a series of races for cars which have competed at the 24 Hours of Le Mans or for similar cars of the same model. The races are divided into different car eras, where similar cars race against each other. Porsche has had a long history with the Le Mans circuit, with the original 550-01 and 550-02 spyders both competing for the first time with hard tops and taking first and second position wins in their class.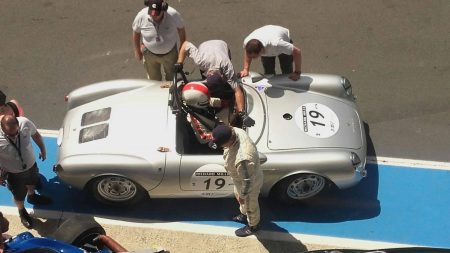 Today, original competitors like 550-10 continue their racing heritage, along with other spyders like 550-0016 and 550-0045 who push the small quad cam cars around the track.